Key Resources
Advocacy & Resources
Comment letters, white papers, articles and more on market policy and regulation
SIFMA Insights
Thoughtful and unique views on the markets, the industry and the economy
SIFMA Research
Data and reports on the capital markets, economy and securities industry
SIFMA SmartBrief
A daily, concise news briefing on news impacting the capital markets, with weekly editions for Asset Management, Wealth Management and Operations & Technology
News, Blogs & Podcasts
Musings from the intersection of public policy and financial markets
My Profile
Update your profile to receive important information and event updates
Cybersecurity Resources
Resources to address cyber threats and improve the financial industry's overall cybersecurity including ,Best Practices for Insider Threats, Third Party Risk Management, Cyber and Operational Resilience Table Top Exercises, Penetration Testing, Data Protection Principles and more
Business Continuity Planning (BCP) Resources
Critical resources for dealing with incidents that can interrupt business and market functions
2022 Holiday Schedule
www.sifma.org/holiday-schedule
On behalf of financial market participants, SIFMA recommends a holiday schedule in the U.S., U.K. and Japan.
All SIFMA holiday recommendations apply to the trading of U.S. dollar-denominated government securities, mortgage- and asset-backed securities, over-the-counter investment-grade and high-yield corporate bonds, municipal bonds and secondary money market trading in bankers' acceptances, commercial paper and Yankee and Euro certificates of deposit. Previously scheduled SIFMA early close recommendations do not affect the closing time for settlements.
In 2022, Juneteenth National Independence Day was declared a federal holiday. Going forward, Juneteenth will be incorporated into our holiday schedule.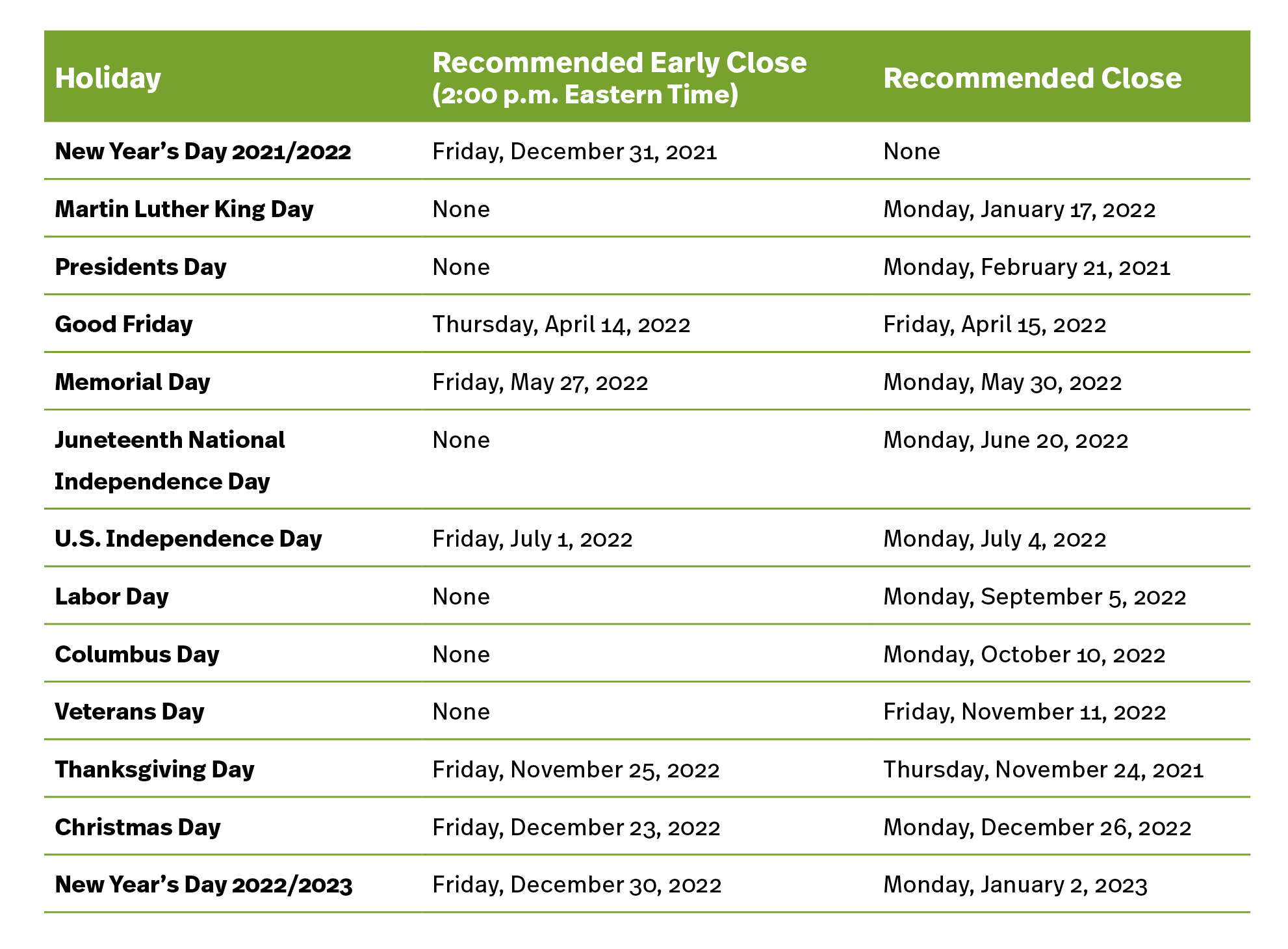 2022 Conferences and Events
www.sifma.org/events
SIFMA conferences, events and webinars foster meaningful conversations about the capital markets and offer valuable professional development opportunities. Our offerings pivot quickly based on the current environment; visit us online to view our full calendar of timely, upcoming events.
Anti-Money Laundering and Financial Crimes Conference
February 7-8 | New York, NY
Securities Industry Institute (SII)
March 5–11 | Philadelphia, PA
SIFMA C&L Annual Seminar
March 20–23 | Orlando, FL
Private Client Conference
April 6-8 | Aventura, FL
Operations Conference & Exhibition
May 16–19 | Phoenix, AZ
Diversity, Equity & Inclusion Leadership Forum
To Be Announced
For a listing of all events, including SIFMA's Webinar Series and virtual content available on demand, please visit www.sifma.org/events.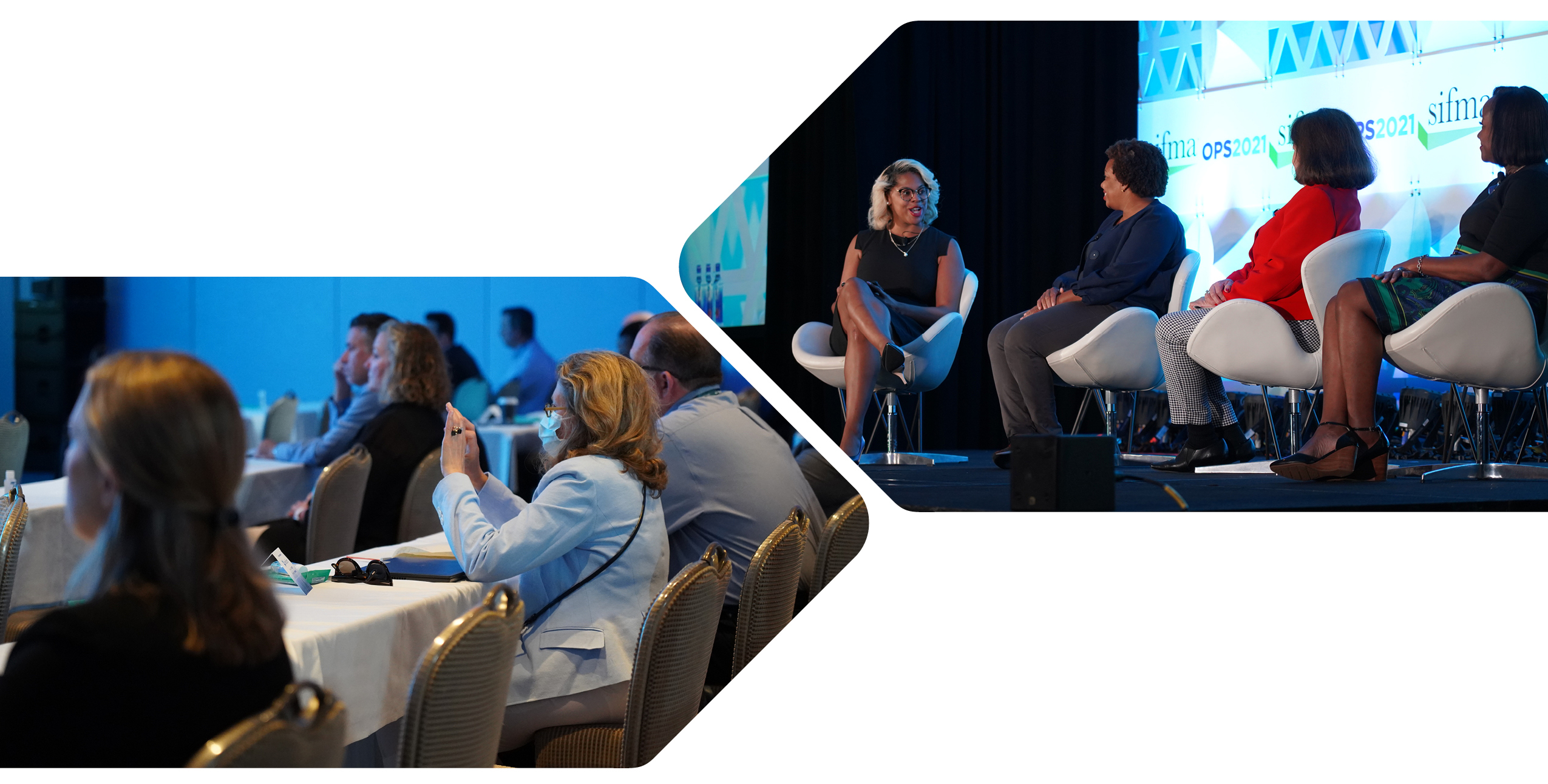 Analyze Markets
www.sifma.org/insights
SIFMA Insights reports provide thoughtful and unique views on markets trends and key industry themes. In addition to a comprehensive primer series, publications include:
Spotlight Reports on thematic issues including topics such as inflation, stock ownership and COVID-related market turmoil
And more
www.sifma.org/research
SIFMA Research produces various reports analyzing market statistics (volumes, issuance and outstanding) and securities industry statistics (broker-dealers, retirement assets and investor participation).
SIFMA Research Quarterlies
Fact Sheets (Repo, Leveraged Loans)
---
In 2020, the securities industry raised $2.7 trillion of capital for businesses through corporate debt and equity issuance activity, a 60.4% increase from the prior year. This represents 73% of funding for economic activity in the U.S., in terms of equity and debt financing of non-financial corporations.
Find more facts in SIFMA's indispensable Capital Markets Fact Book, an annual publication with downloadable data tables on the capital markets, investor participation, savings and investment, and securities industry. The Fact Book amasses data from dozens of sources into a single, easily accessible reference tool to analyze key industry statistics.
---
The basis for its reports, SIFMA Research produces databases for various securities. Equity includes volumes, volatility and capital formation. Fixed income includes issuance/ trading volumes and outstanding; rate and holders information is provided for some asset classes.
---
America's capital markets are the largest and deepest in the world. An immersive experience on the bond markets, our interactive data visualization draws from deep cuts of data in both issuance and outstanding securities. Explore trends in the bond markets across various time series and dive into multiple asset classes. Download distinct datasets and corresponding JPG files.
---
Capital markets are the bedrock of our economy, driving capital to the best ideas and enterprises. They enable workers to save for retirement, students to pay for their education, businesses to grow, and communities to finance sustainable development. From California to Maine, explore this state-by-state database to see who is accessing them in your state. View and download state-by-state data on equity, corporate and municipal issuance; top public companies; securities industry employment; and more.
Economic Survey
The SIFMA Economic Advisory Roundtable brings together Chief U.S. Economists of 27 global and regional financial institutions. The US. Economic Survey report is a semiannual compilation of the median economic forecast of Roundtable members, published prior to the upcoming Federal Open Market Committee (FOMC) meeting.
We analyze economists' expectations for: GDP, unemployment, inflation, interest rates, etc. We also review expectations for policy moves at the upcoming FOMC meeting and discuss key macroeconomic topics and how these factors impact monetary policy.

Learn About Markets
Market Structure At-A-Glance
Capital, raised through equity and debt, can be used to grow businesses, finance investments in new plant, equipment and technology and fund infrastructure projects. This creates jobs and flows money into the economy. Additionally, businesses and individuals can invest in securities to generate wealth.
The capital markets can be broken into:
Primary Markets
Issuers create new securities and sell them to investors
Sales of new issuances carried out through discrete transactions
Securities issued at a single price
Secondary Markets
Investors trade securities, (typically) no issuer involvement
Trading of securities can occur continuously
Securities traded at market prices, fluctuating
Primers

With a fundamental understanding of the marketplace, we can address myriad complex issues that might arise.

The primer series from SIFMA Insights is an important reference tool that goes beyond a typical 101-level brief, breaking down important technical and regulatory nuances in our market structure and more.

For basic concepts and product overviews, view SIFMA's Investor Guides.
Let's start at the beginning: what is the function of the capital markets? How is a financial institution structured? Why do capital markets matter?
Primary, Secondary & Post-Trade Markets Primer
Where are securities created? Where are they traded among investors? Why is the last phase of the trade lifecycle known as the plumbing of the capital markets? Find out in Part II of our two-part foundation to the Insights Primer Series.
Global Equity Markets Primer
The U.S. cash equity markets are the largest in the world and continue to be among the deepest, most liquid and most efficient. This primer is a thorough comparison of equity markets across the globe, analyzing data on market size, formation, performance and costs, as well as markets in indexes.
Electronic Trading Market Structure Primer
Technology is now part of market DNA but defining electronic trading is not black and white. Here, we attempt to do so by providing an overview of the types of platforms and strategies utilizing a form of electronic trading.
US Equity Capital Formation & Listings Exchanges Primer
Initial public offerings (IPOs) are an important way for businesses to grow, innovate and better serve their customers. Yet, the number of public companies has declined 46% since its peak in 1996. Why might that be? What can be done?
US Equity Market Structure Primer
Efficient and resilient market structure is key to sustaining investor confidence and participation underpinning the equity markets.
US Multi-Listed Options Market Structure Primer
An option is a contract to buy or sell an underlying asset or security at a specified price on or before a given date.
US ETF Market Structure Primer
Exchange-traded funds (ETFs) are pooled investment vehicles that have experienced significant growth since 2000.
US Fixed Income Market Structure Primer
Fixed income markets are an integral component to economic growth, providing efficient, long term and cost- effective funding.
SOFR Primer: The Transition from LIBOR
With an estimated $200 trillion of financial contracts referencing USD LIBOR, much work lies ahead in order to implement a successful reference rate change – and time is of the essence.
The Evolution of the Fintech Narrative
Capital markets have been impacted by the post-crisis transformation of financial institution business models – driven not just by regulations, but also by new financial technologies. In this report, SIFMA Insights assesses how the narrative around analyzing and deploying fintech opportunities has evolved throughout the past decade and changed the world in which we operate.
Terms to Know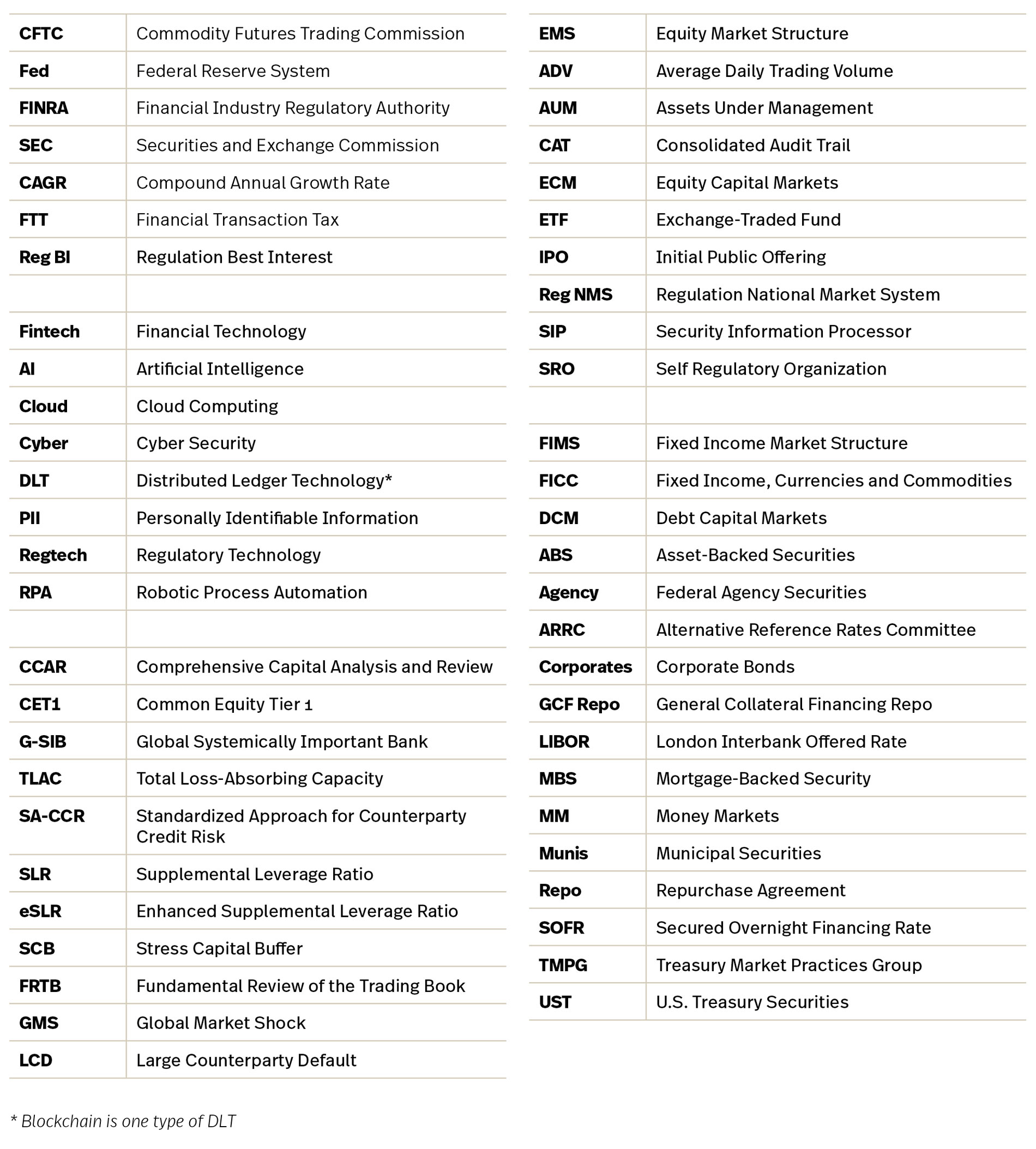 Our Committees
SIFMA is a member-driven organization. Through our committee structure – including 33 standing committees, 30 forums and 8 advisory councils overseen by 6 Board subcommittees – our members develop industry-wide views on legislation, regulation and business policy affecting retail and institutional investors, equity and fixed income markets and related products and services. We engage with policymakers and regulators through comment letters, testimony, research and more.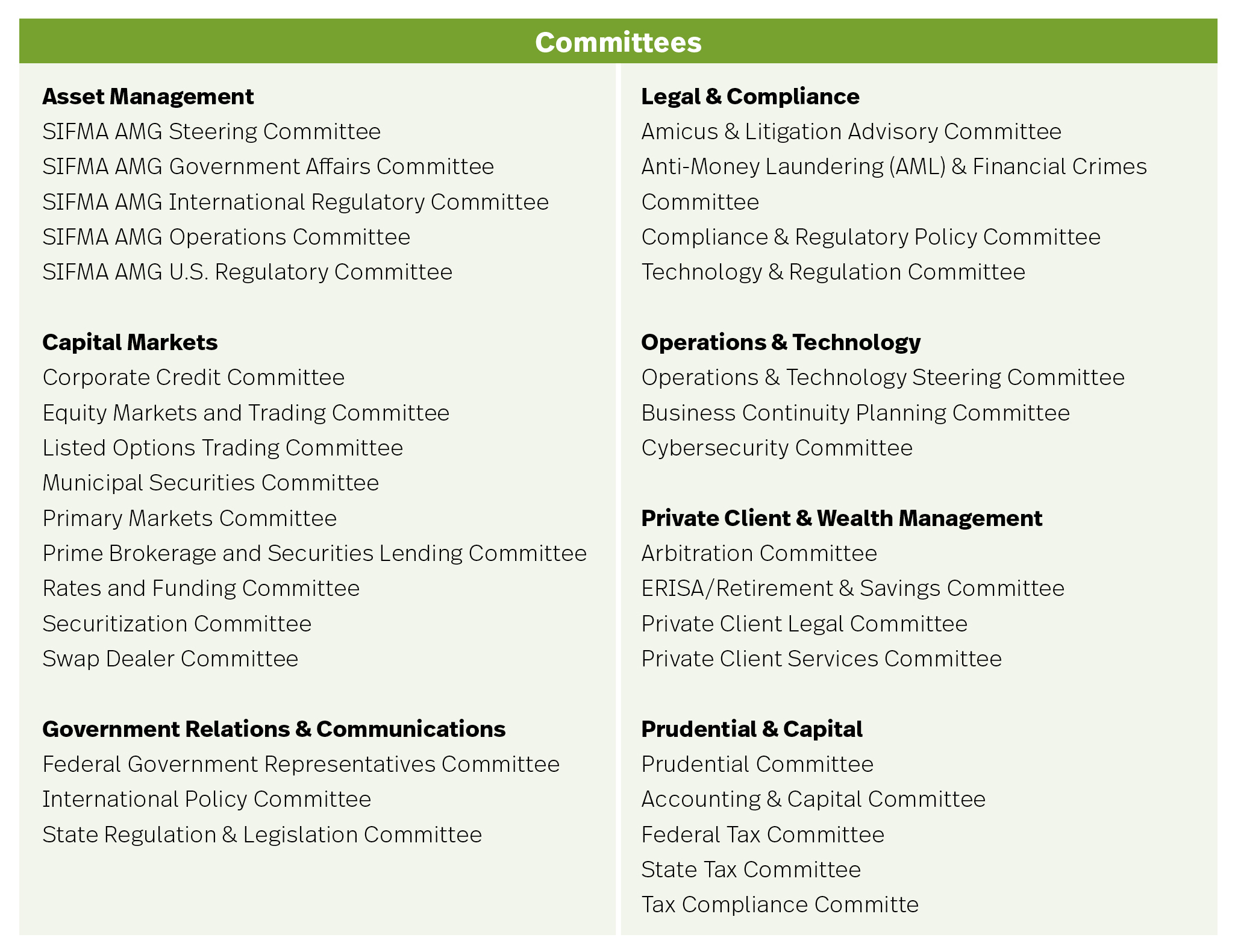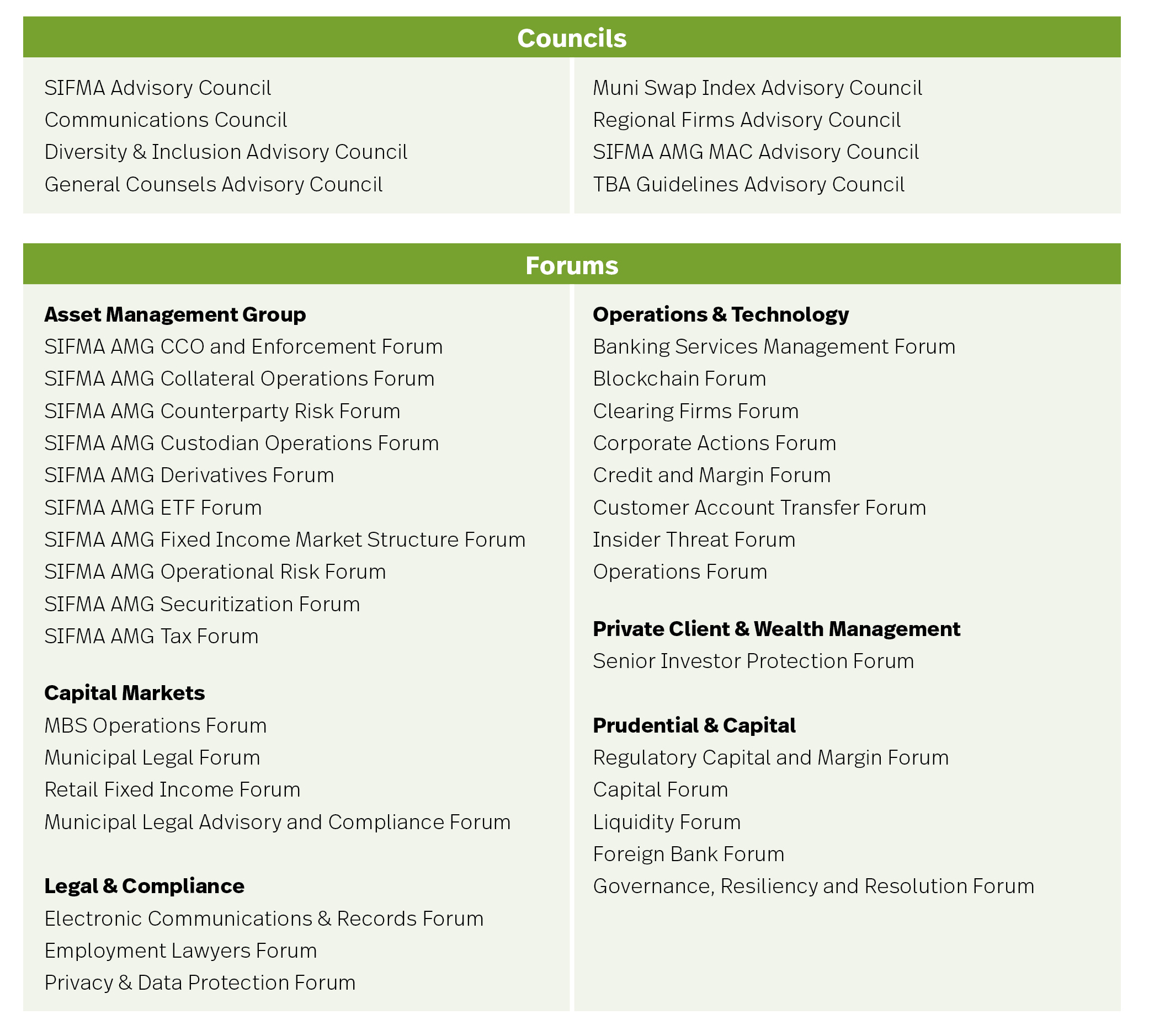 The GFMA Partnership
www.gfma.org
The Global Financial Markets Association (GFMA) represents the common interests of the world's leading financial and capital market participants, to provide a collective voice on matters that support global capital markets. As SIFMA's global affiliate, GFMA advocates on policies to address risks that have no borders, regional market developments that impact global capital markets, and policies that promote efficient cross-border capital flows, benefiting broader global economic growth.
AFME in London, Brussels and Frankfurt, ASIFMA in Hong Kong and SIFMA in New York and Washington are, respectively, the European, Asian and North American members of GFMA.