Key Contacts
Kenneth E. Bentsen, Jr.
President and CEO
[email protected]
| 202.962.7400
Joseph Seidel
Chief Operating Officer
[email protected] | 202.962.7300
David Krasner
Chief Financial and Chief Administrative Officer
[email protected] | 212.313.1249
Salvatore Chiarelli
Executive Vice President, Head of Conferences and Events
[email protected] | 212.313.1231
Cheryl Crispen
Executive Vice President, Communications and Marketing
[email protected] | 202.962.7474
Ira D. Hammerman
Executive Vice President and General Counsel
[email protected] | 202.962.7373
Jamie Wall
Executive Vice President, Advocacy
[email protected] | 202.962.7440
Key Resources
Advocacy & Resources
Comment letters, white papers, articles and more on market policy and regulation
www.sifma.org/resources
SIFMA Insights
Thoughtful and unique views on the markets, the industry and the economy
www.sifma.org/insights
SIFMA Research
Data and reports on the capital markets and securities industry
www.sifma.org/research
SIFMA SmartBrief
A daily, concise news briefing on news impacting the capital markets
www.sifma.org/smartbrief
Podcasts & Blogs
Musings from the intersection of public policy and financial markets
www.sifma.org/news
My Profile
Update your profile to receive important information and event updates
www.my.sifma.org
Our Committees
SIFMA is a member-driven organization. On behalf of our industry's one million employees, SIFMA's committees share their views on legislation, regulation and business policy affecting retail and institutional investors, equity and fixed income markets and related products and services. We engage with policymakers and regulators through comment letters, testimony, research and more. SIFMA's committee structure includes 33 standing committees, 30 forums and 8 advisory councils overseen by 6 Board subcommittees.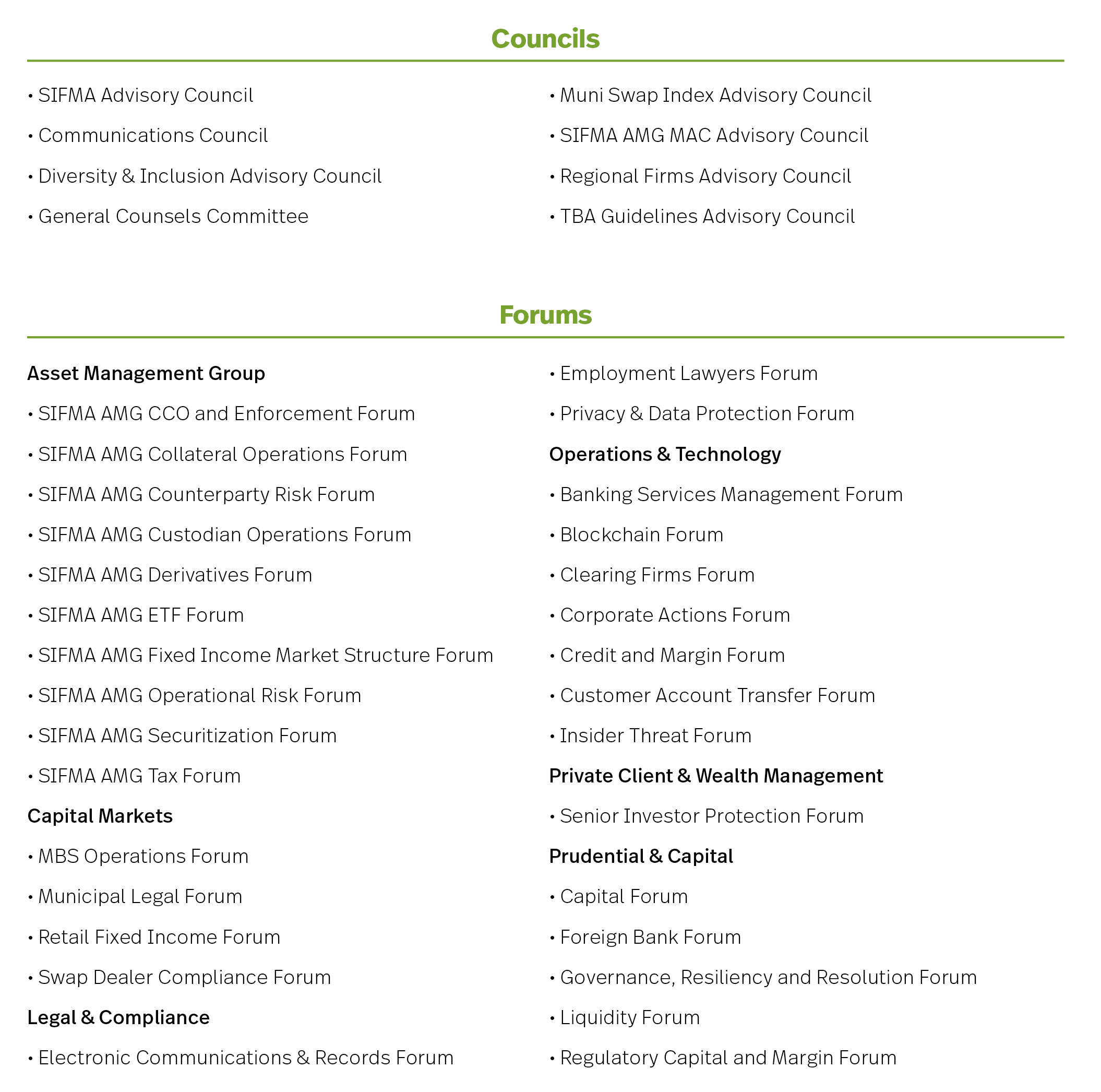 ---
The GFMA Partnership
www.gfma.org
The Global Financial Markets Association (GFMA) is an extension of its regional association members: AFME in Europe, ASIFMA in Asia and SIFMA in the United States. GFMA's mission is to provide a forum for global systemically important banks to develop policies and strategies on issues of global concern within the regulatory environment.

Capital Markets Fact Book
www.sifma.org/fact-book
The SIFMA Capital Markets Fact Book is an annual reference containing comprehensive data on the capital markets, investor participation, savings and investment, and securities industry.
In 2019, the securities industry raised $2.1 trillion of capital for businesses through corporate debt and equity issuance activity in the United States.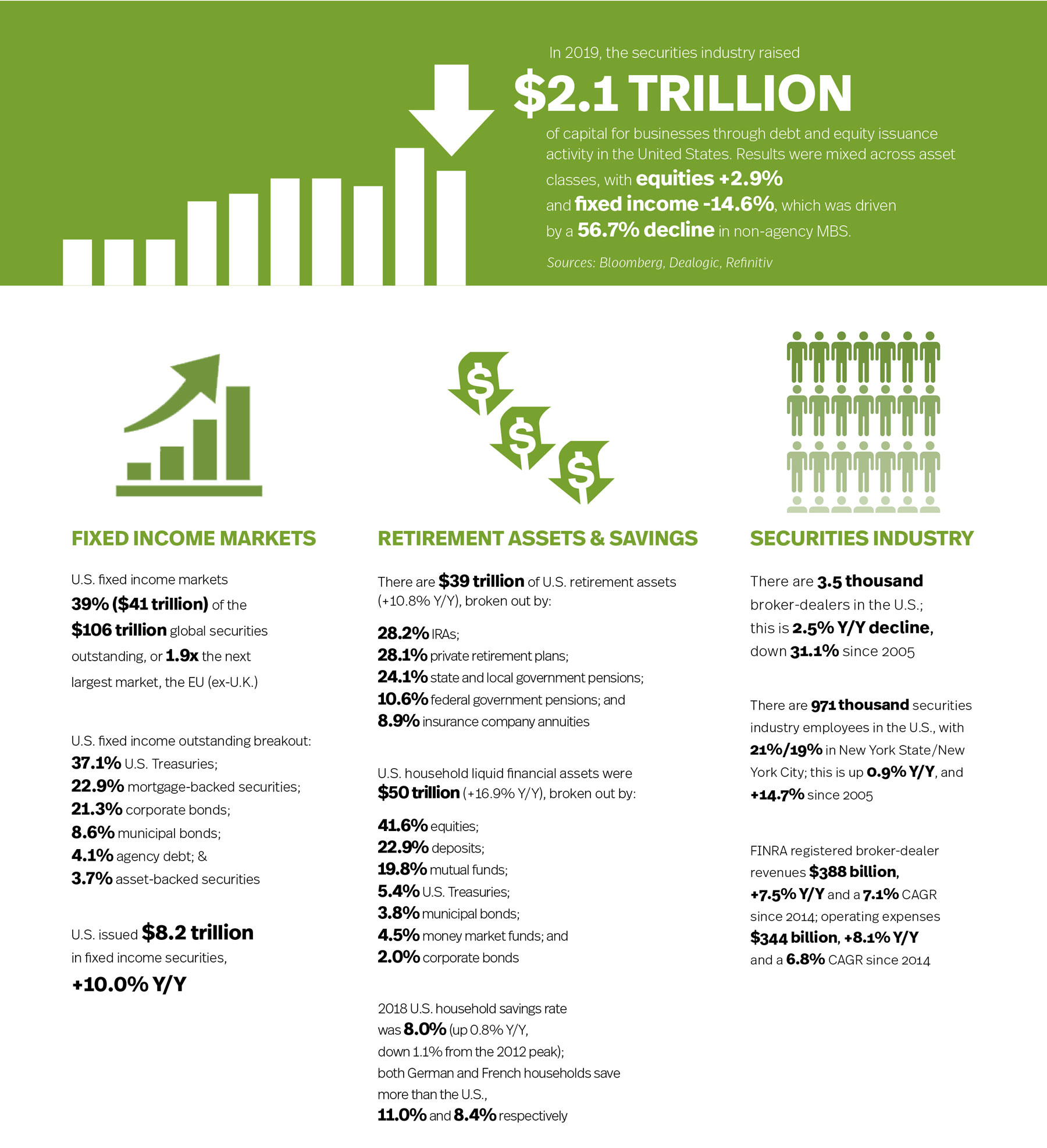 Primers, by SIFMA Insights
www.sifma.org/primers
The SIFMA Insights market structure primer series is a reference tool that goes beyond a typical 101 series. By illustrating important technical and regulatory nuances, SIFMA Insights primers provide a fundamental understanding of the marketplace and set the scene to address complex issues arising in today's markets.

Primer Series
Global Capital Markets & Financial Institutions Primer
Let's start at the beginning: what is the function of the capital markets? How is a financial institution structured? Why do capital markets matter?
Electronic Trading Market Structure Primer
Technology is now part of market DNA but defining electronic trading is not black and white. Here, we attempt to do so by providing an overview of the types of platforms and strategies utilizing a form of electronic trading.
US Equity Capital Formation & Listings Exchanges Primer
Initial public offerings (IPOs) are an important way for businesses to grow, innovate and better serve their customers. Yet, the number of public companies has declined 46% since its peak in 1996. Why might that be? What can be done?
US Equity Market Structure Primer
Efficient and resilient market structure is key to sustaining investor confidence and participation underpinning the equity markets.
US Multi-Listed Options Market Structure Primer
An option is a contract to buy or sell an underlying asset or security at a specified price on or before a given date.
US ETF Market Structure Primer
Exchange-traded funds (ETFs) are pooled investment vehicles that have experienced significant growth since 2000.
US Fixed Income Market Structure Primer
Fixed income markets are an integral component to economic growth, providing efficient, long term and cost- effective funding.
SOFR Primer: The Transition from LIBOR
The publication of LIBOR is not guaranteed beyond 2021. With an estimated $200 trillion of financial contracts referencing USD LIBOR, much work lies ahead in order to implement a successful reference rate change – and time is of the essence.
The Evolution of the Fintech Narrative
Capital markets have been impacted by the post-crisis transformation of financial institution business models – driven not just by regulations, but also by new financial technologies. In this report, SIFMA Insights assesses
how the narrative around analyzing and deploying fintech opportunities has evolved throughout the past decade and changed the world in which we operate.
Market Structure: Capital Markets At-A-Glance
Capital, raised through equity and debt, can be used to grow businesses, finance investments in new plant, equipment and technology and fund infrastructure projects. This creates jobs and flows money into the economy. Additionally, businesses and individuals can invest in securities to generate wealth.
The capital markets can be broken into:
Primary Markets
Issuers create new securities and sell them to investors
Sales of new issuances carried out through discrete transactions
Securities issued at a single price
Secondary Markets
Investors trade securities, (typically) no issuer involvement
Trading of securities can occur continuously
Securities traded at market prices, fluctuating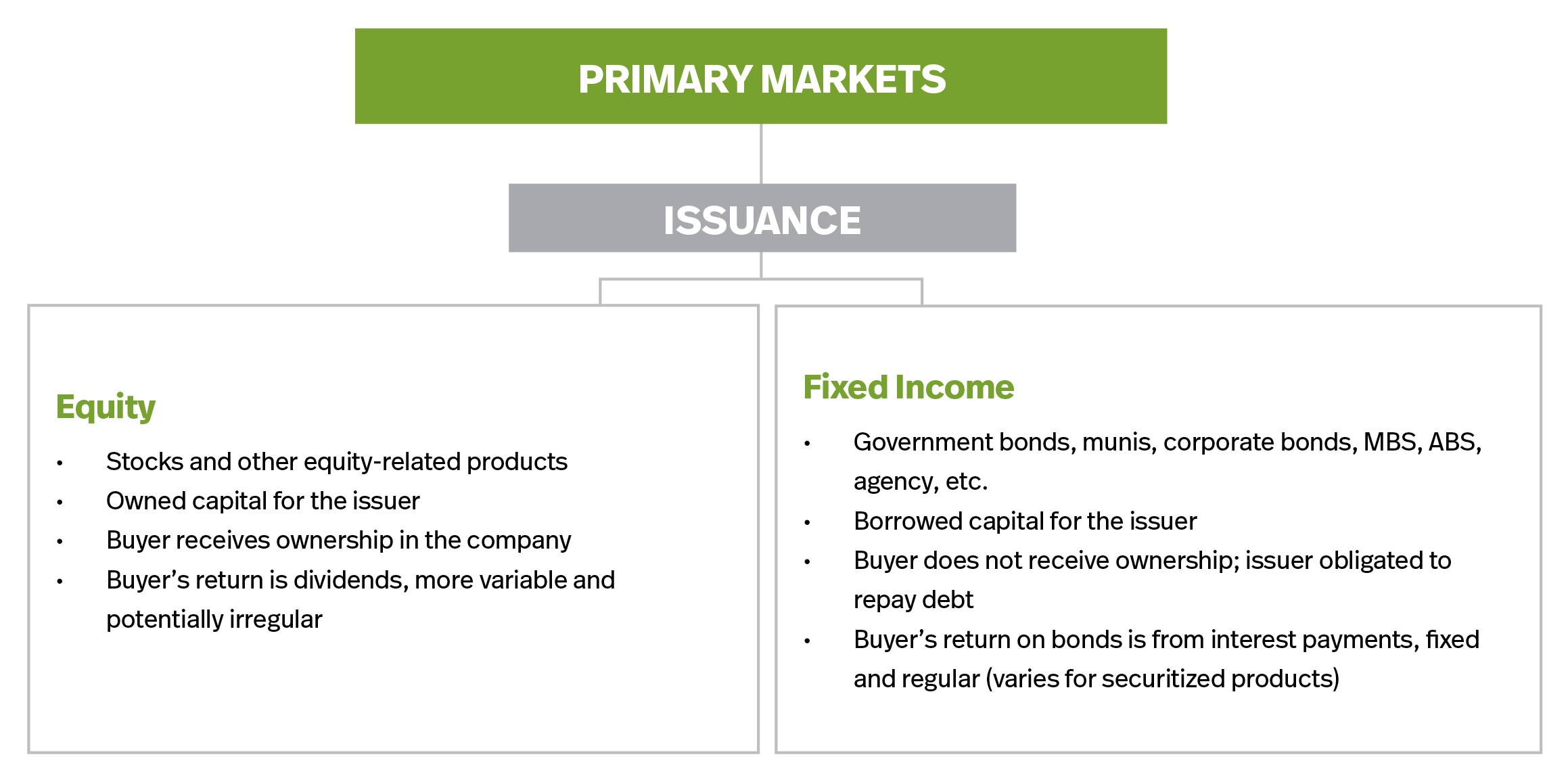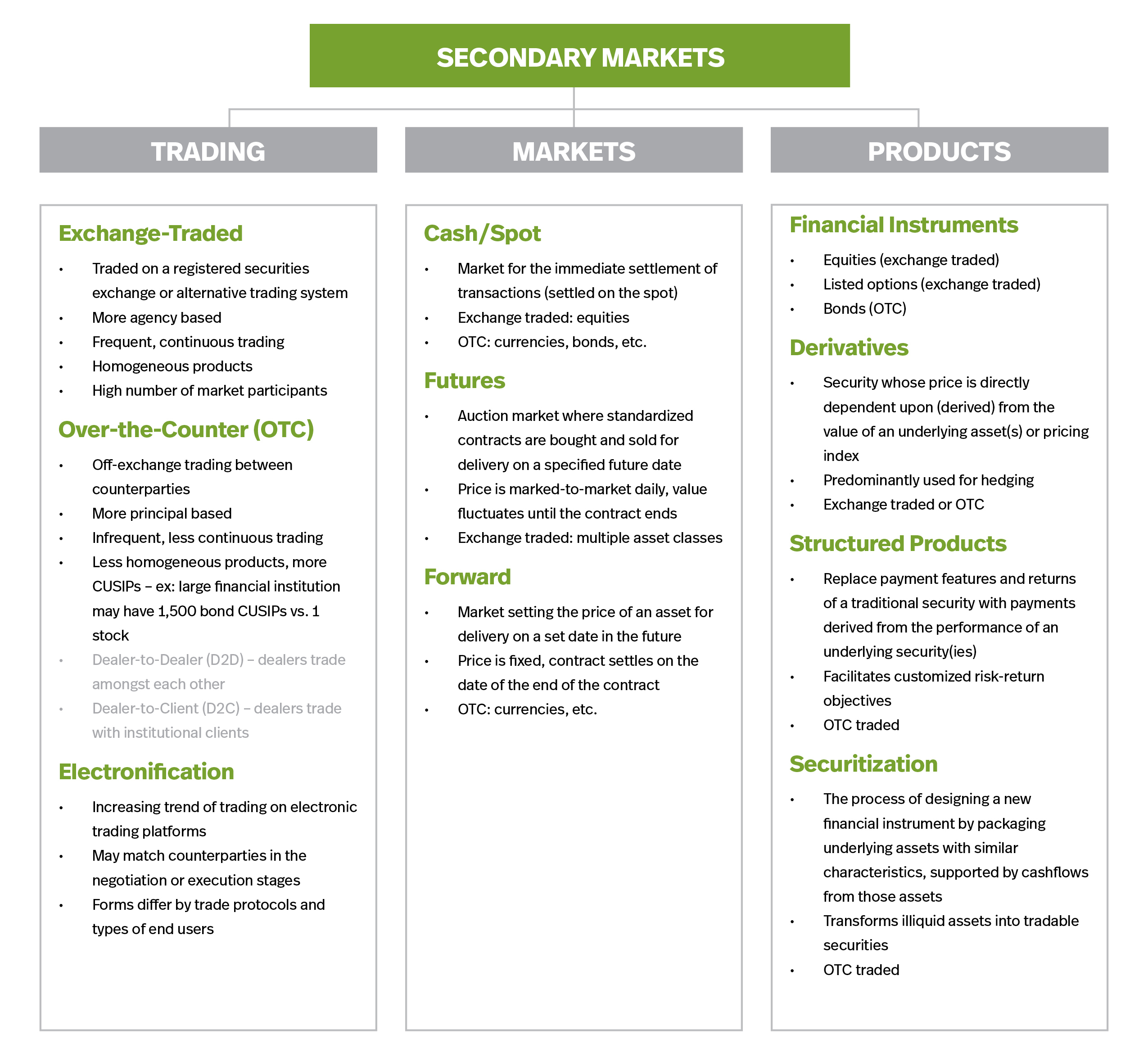 2021 Holiday Schedule
www.sifma.org/holiday-schedule
On behalf of financial market participants, SIFMA recommends a holiday schedule in the U.S., U.K. and Japan. All SIFMA holiday recommendations apply to the trading of U.S. dollar-denominated government securities, mortgage- and asset-backed securities, over-the-counter investment-grade and high-yield corporate bonds, municipal bonds and secondary money market trading in bankers' acceptances, commercial paper and Yankee and Euro certificates of deposit. Previously scheduled SIFMA early close recommendations do not affect the closing time for settlements.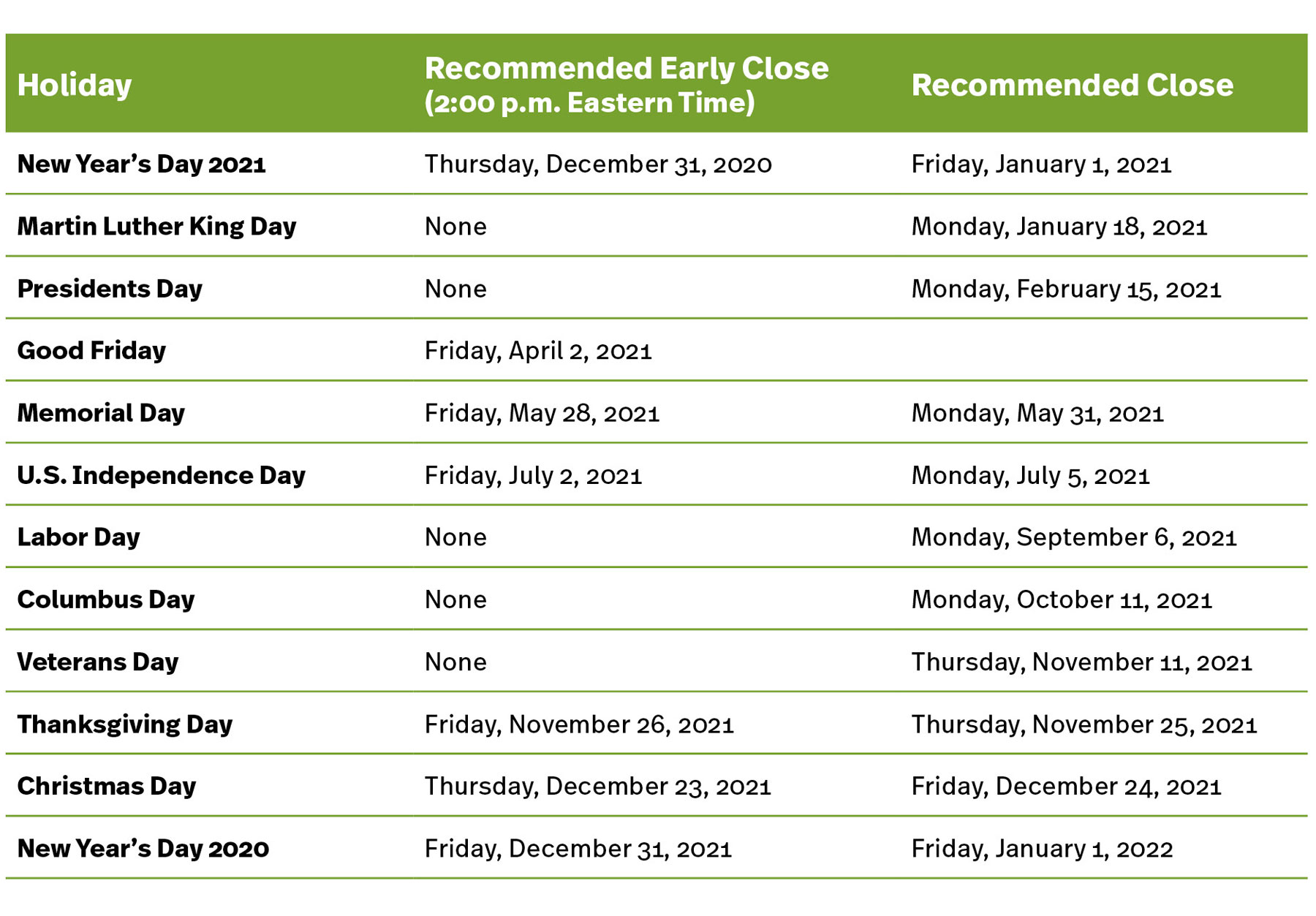 Business Continuity Planning and Cybersecurity
www.sifma.org/bcp
|
www.sifma.org/cybersecurity
SIFMA leads a number of projects and services on behalf of the financial industry to help members secure, maintain and recover business operations against disruptions and threats, thereby promoting a safer and more resilient marketplace.
Cybersecurity Resources
www.sifma.org/cybersecurity
Quantum Dawn 6 Cybersecurity Exercise
Fall 2021
Business Continuity Planning (BCP) Resources
www.sifma.org/bcp
Industry-Wide Business Continuity Test
Saturday, October 23, 2021
Emergency Crisis Management Command Center
www.sifma.org/emergency
In the event of an industry-wide emergency, SIFMA convenes market participants; issues market close recommendations; and coordinates with market infrastructures, regulators and emergency personnel including the U.S. Treasury, New York City Office of Emergency Management and more.
2021 Conferences and Events
www.sifma.org/events
Signature Events
Securities Industry Institute (SII)
January 25 – April 16
Operations Conference & Exhibition
October 4–7
SIFMA C&L Annual Seminar
October 13–15
SIFMA Annual Meeting
November 1–2
SIFMA On Demand
SIFMA On Demand offers a library of our content from our webinars and events – available at your fingertips and on your schedule. Watch now at www.sifma.org/on-demand.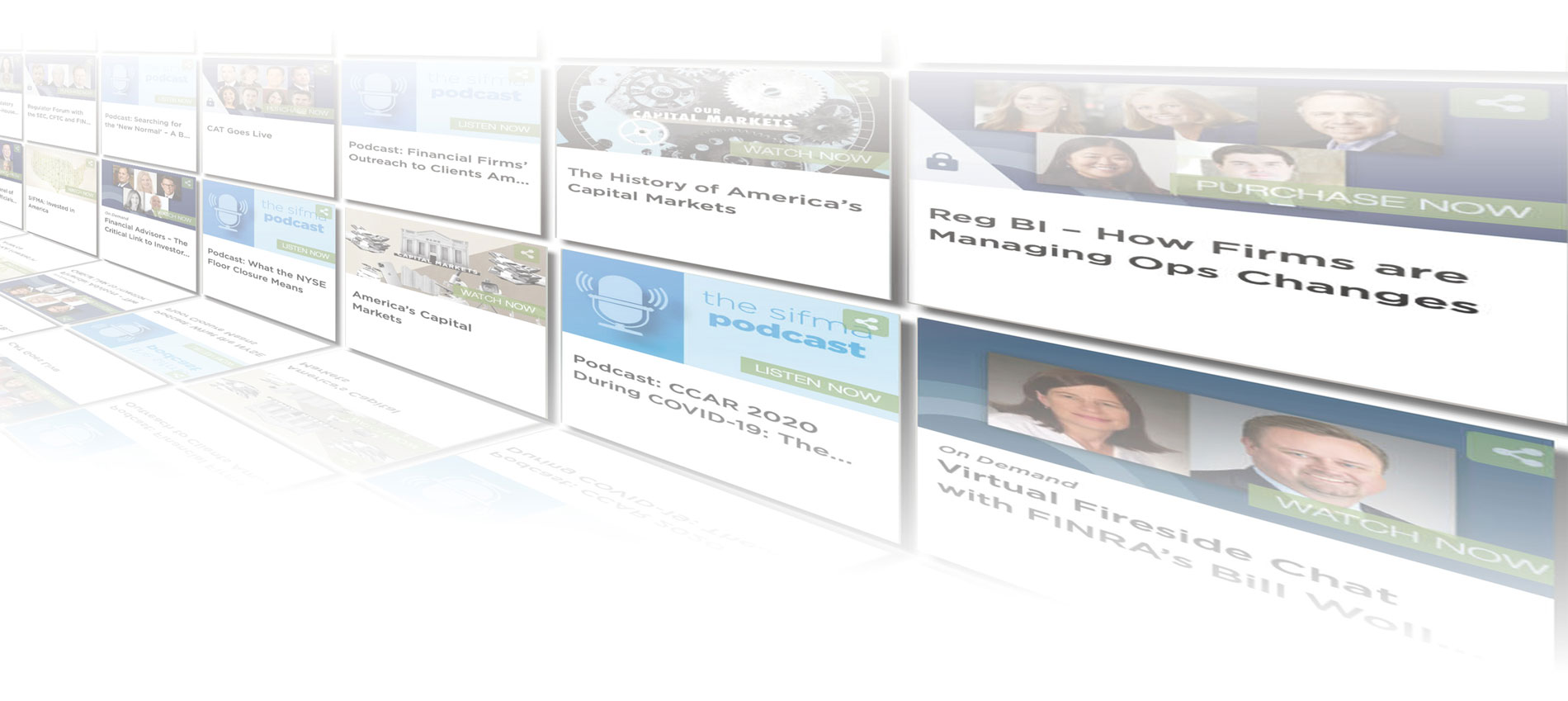 Terms to Know