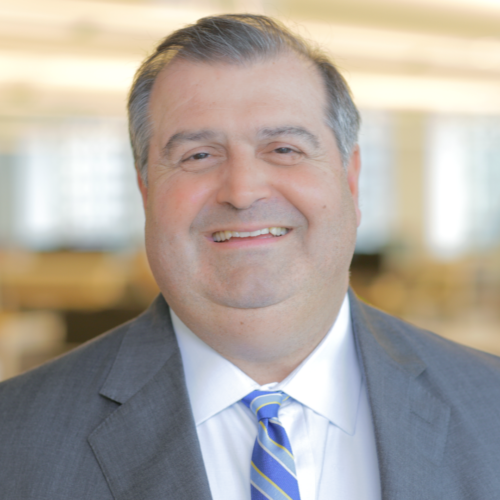 Ron DePoalo
Ron DePoalo is head of Fund and Brokerage Operations & Technology (FBOT) which oversees brokerage operations including technology, institutional and investment operations, and
administration. FBOT is a division of Fidelity Investments, a leading provider of investment management, retirement planning, portfolio guidance, brokerage, benefits outsourcing and
other financial products and services to more than 26 million individuals, institutions and financial intermediaries.
Mr. DePoalo has responsibility for the brokerage platform that serves Fidelity's institutional and retail businesses, as well as all brokerage operations and services. He also oversees Fidelity
Fund and Investment Operations (FFIO), which provides accounting and investment management support services to Fidelity businesses and mutual fund shareholders. He is a
member of the Fidelity Operating Committee and serves on the boards for National Financial Services, LLC and a technology company.
Previously, Mr. DePoalo was chief information officer for Fidelity Brokerage Technology (FBT), a division of FBOT, and was responsible for the global focus and leadership of internal and
institutional client-facing technology management and development.
Prior to joining Fidelity in 2008, Mr. DePoalo held various global leadership roles within Merrill Lynch during his more than 20 year tenure. Most recently, he was managing director and chief technology officer for Global Wealth Management. Prior to that, Mr. DePoalo was managing director for Global Markets and Investment Banking Operations Technology. He also was first vice president and chief technology officer for Global Transaction and Custody Services and led Global Financing Technology.
Mr. DePoalo received his B.S. degree in management information systems from Ramapo College of New Jersey and an MBA from Saint Peter's College, New Jersey. He holds his FINRA
Principal Series 99, 24 and 7 licenses and has served on the FINRA Technology Advisory Committee and the SIFMA Operations and Technology Committee. He also sits on the boards
for two educational institutions.
The third-party trademarks and service marks are the property of their respective owners. All other trademarks and service marks are the property of FMR LLC or an affiliated company.