Sustainable Finance/ESG
Environmental, Social, and Governance (ESG) refers to a broad range of environmental, social, and governance criteria on which socially conscious investors measure the sustainability and societal impact of their potential investments in a company.
As a result, ESG standards are increasingly shaping the way investors choose to engage with companies and thus how companies do business around the world.
Mobilizing Capital for Climate Finance
GFMA, SIFMA's global affiliate, and Boston Consulting Group (BCG) have published a report, Climate Finance Markets and the Real Economy, which provides a roadmap for how to accelerate the evolution of climate finance and defines the role capital market participants can play to facilitate the transition to a low-carbon economy in line with their responsibilities to serve clients, investors, and the societies in which they operate.
Taken together, the recommendations included within this report enable the development of the climate finance market to grow to the $3–5 trillion+ of investment per year that this report estimates will be required to achieve the ambitions set out in the Paris Agreement.
Moving to a Low-Carbon Economy
SIFMA, as a member of the U.S. Climate Finance Working Group, has published principles for a U.S. Transition to a Sustainable Low-Carbon Economy.
The financial services industry has been active on climate priorities for decades, helping clients reduce emissions and developing new business models. The principles, developed in coordination with 10 other leading financial services trade associations representing the perspectives of banks, investment banks, insurers, asset managers, investment funds, pension funds and other financial intermediaries, build from that experience to create a useful policy framework for the transition to a low-carbon economy.
GFMA has published a report, Unlocking the Potential of Carbon Markets to Achieve Global Net Zero.
The report finds that close to 80% of greenhouse gas emissions are not covered by regulated carbon pricing today. In order to meet the Paris Agreement goals, price levels need to increase to an estimated $50-150/tonne average by 2030 from the current global average of <$5/tonne. To do this, the report highlights the role and importance of both compliance and voluntary carbon markets to the low-carbon transition.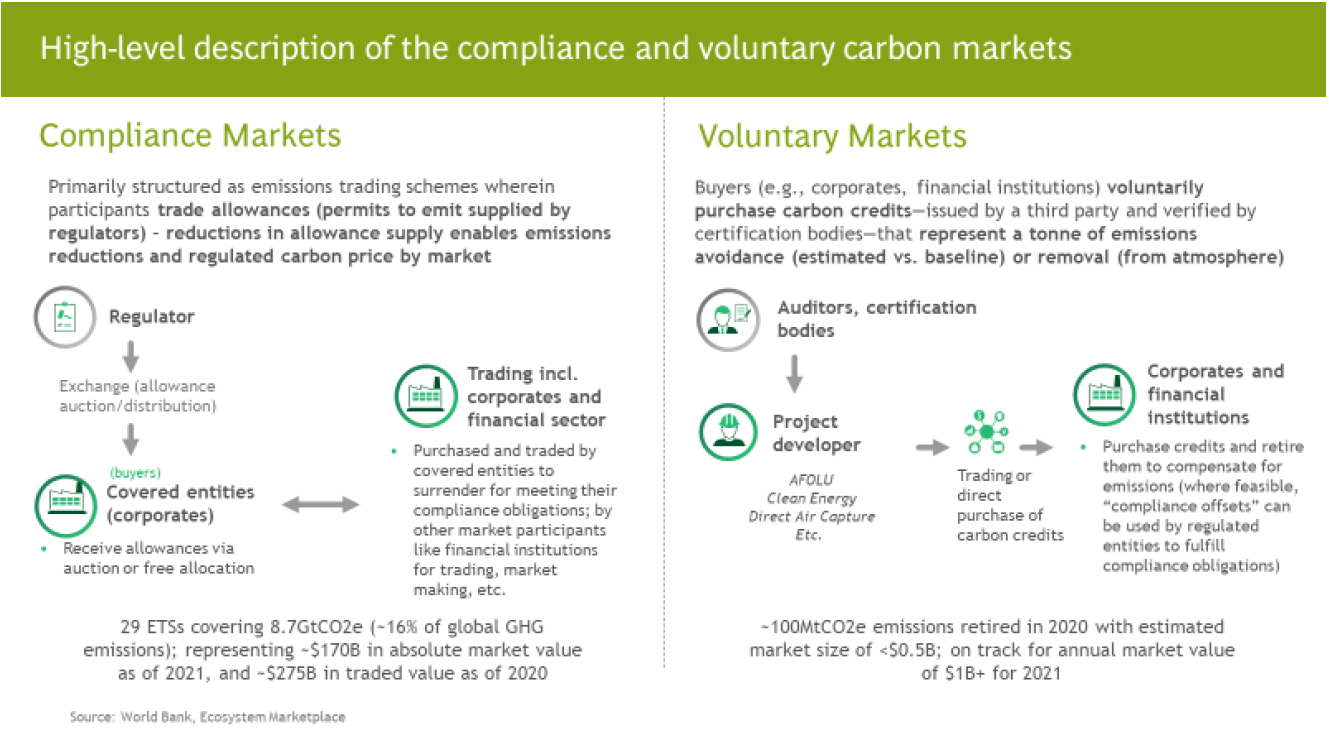 Considerations for Asset Managers
Some asset managers have offered ESG products for years. But, as investors have shown an interest in putting their money where their values are, brokerage firms and mutual fund companies have significantly increased their offerings of exchange-traded funds (ETFs) and other financial products that follow ESG criteria.
According to a report released by the Global Sustainable Investment Alliance, the level of global sustainable investments reached a new peak of $31 trillion at the beginning of 2018, a 34% increase from 2016, with the United States remaining one of the largest markets for sustainable investments in 2018, with $12 trillion in assets under management.
Additionally, ESG advocacy continues to be a top priority for the asset management industry globally, from a regulatory perspective. SIFMA AMG is working with European regulators and policymakers in Brussels on an ESG taxonomy that will ensure all interested parties are speaking the same language and will guard against so-called "greenwashing," conveying a false impression or providing misleading information about how a company's products are more environmentally sound.
However, the industry still harbors concerns that regulators may go too far in pushing investors toward investments deemed sustainable and/or penalizing investment advisers for following client mandates, if they are not deemed to be green. SIFMA will continue to work on educational efforts with lawmakers and discussions regarding the impact of European ESG principles in the U.S.
More Sustainable Finance/ESG Content
Featured Sustainable Finance/ESG Content
In the latest in SIFMA's podcast series, SIFMA president and CEO Kenneth E. Bentsen, Jr. discusses discuss the new report…
Sizing the Global Need and Defining the Market Structure to Mobilize Capital The Global Financial Markets Association (GFMA) and Boston…
Type:
Pennsylvania + Wall
Kenneth E. Bentsen, Jr., president and CEO of SIFMA and CEO of GFMA, joined David Westin on BloombergTV to discuss…
All Sustainable Finance/ESG Content
Back to Sustainable Finance/ESG