Overview
Following SIFMA's Annual Meeting on November 10, the SIFMA Foundation hosted the 2014 SIFMA Foundation Tribute Dinner. This year's dinner, Invested in Financial Capability, recognized the outstanding contributions of our honorees to financial capability efforts across the country. Our honorees and special guest speaker exemplify the commitment to helping our youth achieve their full potential.
Thanks to our supporters, each of our award-winning programs enjoyed a record-breaking year in 2014 and we were pleased to launch our new Invest It Forward™ national volunteer initiative:
The Stock Market Game™: SMG went mobile in 2014 with iPhone, Android, and iPad apps, the first ever summer SMG competition, and an exciting increase overall in student, teacher, and school participation.
Capitol Hill Challenge™: For the first time, matched 100% of Members of Congress to schools competing in the Stock Market Game Capitol Hill Challenge in all congressional districts.
InvestWrite®: In its 10th anniversary year, recruited 3,300 industry professionals as volunteer judges - the highest number ever-and received 17,000 student essays.
Invest It Forward™: Industry-wide capital markets literacy campaign launched in April 2014 resulted in thousands of volunteers from hundreds of firms contributing tens of thousands of service hours to help students, teachers and communities better understand the capital mark
Honorees, Special Guest Speaker and Mistress of Ceremonies
| | | | |
| --- | --- | --- | --- |
|   | Private: Mr. David Carroll, Senior Executive Vice President, Wells Fargo & Company |   | Education: Dr. Rudolph F. Crew, President, Medgar Evers College |
|   | Special Guest Speaker: Mrs. Mary John Miller, Former Under Secretary for Domestic Finance, United States Department of the Treasury |   | Mistress of Ceremonies: Ms. Bertha Coombs, Financial Markets and Business News Reporter, CNBC |
Videos
Prior to our event, our presenters and Stock Market Game winners had the opportunity to ring the closing bell at Nasdaq.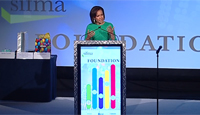 Watch a video from the ceremony as well as view presentations from the 2014 SIFMA Foundation Tribute Dinner on SIFMA's YouTube channel: Part 1 and Part 2 of the evening.
Presentations
Twitter Buzz
Speech rehearsal @PS174Q for @SIFMA Foundation Dinner #FinancialLiteracy #StockMarketGame #SMG @NYCSchools pic.twitter.com/ocI1tVsnVy

— PS 174 @PS174Q November 9, 2014
Getting ready for this year's @SIFMAFoundation dinner with this year's young stock market game winners. pic.twitter.com/0wAcusR7rD

— Bertha Coombs @berthacoombs November 10, 2014
Look forward to attending the @SIFMAFoundation Tribute Dinner tonight at the @MHMarquisNYC! #youth #financialeducation #pricelesscauses

— Mita Menezes @mitaninamenezes November 10, 2014
Kicking off this year's Tribute Dinner with Foundation Chair Rich Brueckner #stockmarketgame @BNYMellon pic.twitter.com/vkTkaBV0f2

— SIFMA Foundation November 10, 2014
@SIFMAFoundation if these young women represent our financial future, we are in excellent hands! #stockmarketgame pic.twitter.com/ybTEJlhsDm

— Sally Pace @sally_pace November 10, 2014
This year's @SIFMAFoundation stock market game 5th grade winners. They call themselves #LadiesWhoLunch. pic.twitter.com/VDWIzib9Ce

— Bertha Coombs @berthacoombs November 10, 2014
@PS174Q #stockmarketgame students speaking about their smart investment choices. #FinLit pic.twitter.com/m5EuFc0NEB

— SIFMA Foundation November 10, 2014
Young Joshua Zirkiyiev is still bullish on #Apple. His pick two years ago. @SIFMAFoundation. pic.twitter.com/eGxvSO35wi

— Bertha Coombs @berthacoombs November 10, 2014
#stockmarketgame alum Joshua making his second appearance to provide insights into the markets! pic.twitter.com/3r3Y687jDx

— SIFMA Foundation November 10, 2014
The kids tell me #Samsung shares are poised for a comeback. @SIFMAFoundation pic.twitter.com/xtj06t4hx2

— Bertha Coombs @berthacoombs November 10, 2014
---
---