SIFMA – Cerulli Associates: Individual Investors' Use of Financial Advisors
Summary
The SIFMA commissioned research Individual Investors' Use of Financial Advisors conducted by Cerulli Associates, explores the relationship between individual investors defined as households with $100,000 to $1,000,000 of investable assets and their financial advisors.
Financial advisors are a critical link in helping investors reach their financial goals. This  research not only provides data to support this and inform the industry on what is working well, but also sheds light on how financial advisors and firms can continue to enhance the retail client experience.
Excerpt
The SIFMA-Cerulli Individual Investors' Use of Financial Advisors research provides several key findings, including the essential role financial advisors play in helping investors, the types of financial services most valuable to investors, and how technology impacts investors' interaction with financial advisors.
Highlights Include:
Individual Investors* currently hold $6.5 trillion with securities firms, with an average relationship size of $135,000
There are over 33 million households between $100,000 and $1,000,000 in investable assets, representing 26% of the U.S. population
These investors control nearly 23% of investable assets in the U.S., over $11 trillion
78% report using a professional financial advisor today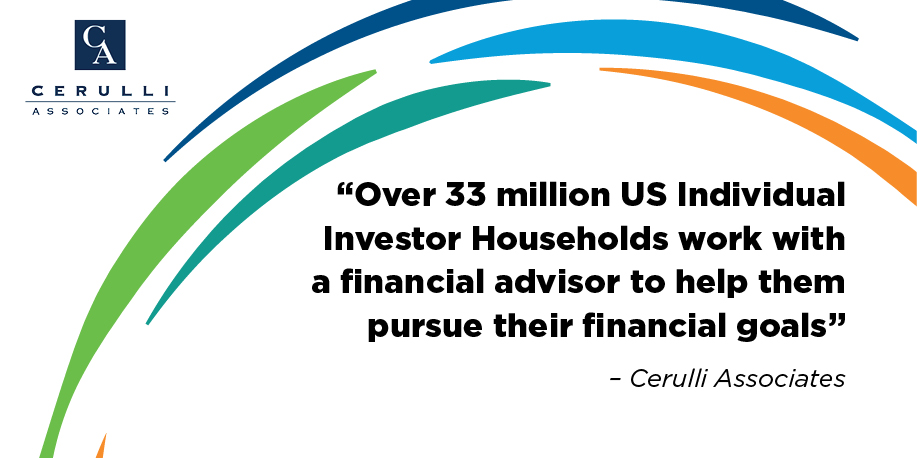 Individual Investors name retirement planning as the primary service they receive from their advisor
Already retired Individual Investors rely on personal investments for nearly two-thirds of their retirement income
Retirement income planning and retirement planning are the most common services offered by advisors serving Individual Investors
Individual Investors are very satisfied with their advisor relationships
74% report that they would recommend their advisor, 77% believe their advisor is worth the cost
Just 1% report being dissatisfied with their advisor
Trustworthiness, dedicated relationships, personalized advice drive this satisfaction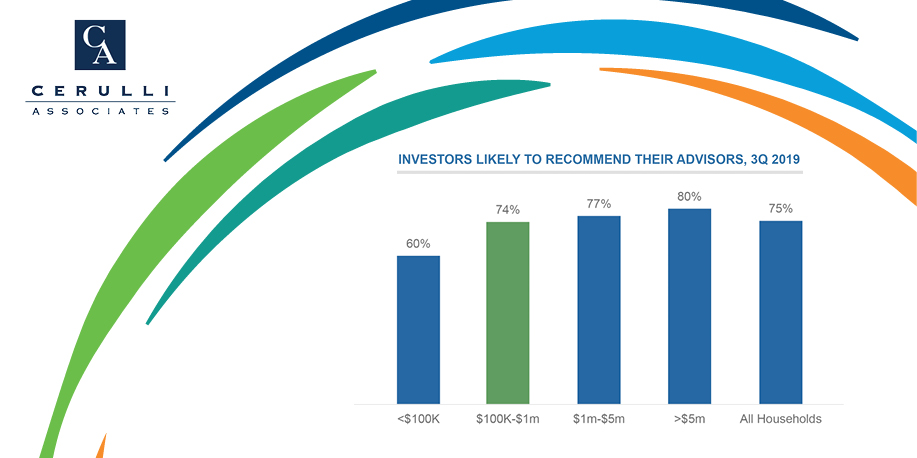 As digital solutions proliferate, personalized financial planning services will become an important complement in individual financial relationships
38% of Individual Investors believe they will need more advice in the future
Advisors serving this segment intend to broaden their offering of financial planning services
Lack of human interaction is cited as the primary obstacle to digital relationships
Digital engagement allows for scaling of basic services, and more time for personal interaction
**For this project Individual Investors are defined as households with $100,000 to $1 million of investable assets. 
Download the full research project (pdf).
See Cerulli Associates press release.