Climate Finance Markets and the Real Economy
Excerpt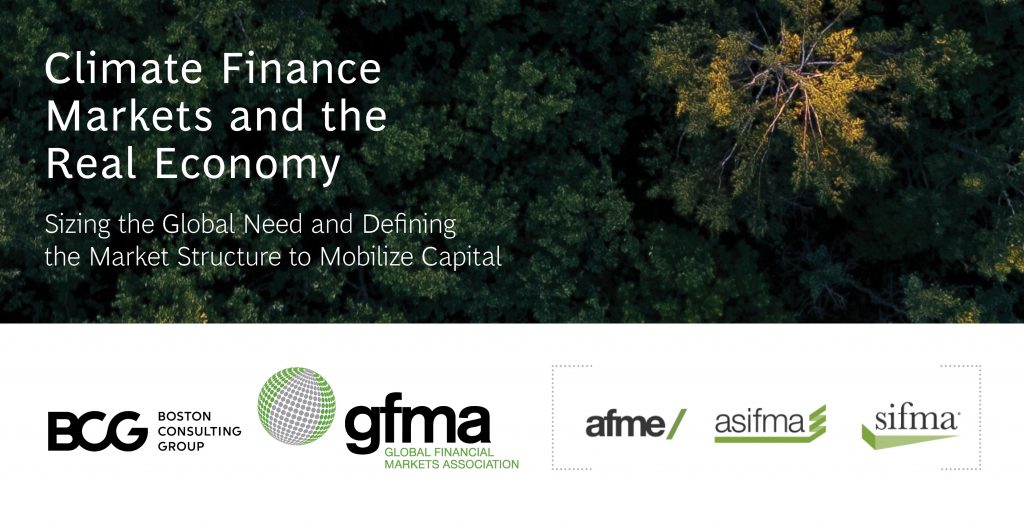 Foreword
Climate change poses economic and financial risks to the global economy. Efforts to mitigate against these risks and adapt to the changing climate will require a fundamental transformation of our global economy. The climate finance market structure must grow at an unprecedented scale, speed, and geographic scope, and this will require concerted and coordinated action by all stakeholders—the public sector, the real economy sectors, the financial sector, and the social sector. This report provides a roadmap (see section 5) for how to accelerate the evolution of climate finance and defines the roles capital market participants can play to facilitate this transition. Taken together, the recommendations enable the development of the climate finance market to grow to the $3–5 trillion+ of investment per year that this report estimates will be required to achieve the ambitions set out in the Paris Agreement.
This report was commissioned to Boston Consulting Group (BCG) by the Global Financial Markets Association (GFMA) with active contribution by GFMA member firms representing capital markets activities globally. Written jointly by GFMA and BCG and advised by contributing member firms (listed on the right), the report is based on interviews conducted with more than 100 market participants globally, during the third quarter of 2020.
GFMA represents the common interests of the world's leading financial and capital market participants to provide a collective voice on matters that support global capital markets. It also advocates on policies to address risks that have no borders, regional market developments that impact global capital markets, and policies that promote efficient cross-border capital flows to end users. GFMA efficiently connects savers and borrowers, thereby benefiting broader global economic growth. The Association for Financial Markets in Europe (AFME) located in London, Brussels, and Frankfurt; the Asia Securities Industry & Financial Markets Association (ASIFMA) in Hong Kong; and the Securities Industry and Financial Markets Association (SIFMA) in New York and Washington are, respectively, the European, Asian, and North American members of GFMA.
The cooperation of a representative global subset of our contributing member firms and individuals, as well as large corporates, asset managers, and climate think tanks that contributed their time toward the interviews and data gathering that form the basis of this report is greatly appreciated.