2019 Outlook: Trends in the Capital Markets
Summary
Efficient capital markets are essential to a vibrant economy. By driving capital and credit to the best ideas and enterprises, they propel them and our country forward.
The global financial system has adopted an unprecedented volume of new regulations since the crisis, affecting everything from market structure to capital standards. As we look to 2019 and beyond, now is the time to ask, what reforms are working? Which would benefit from harmonization? What new risks have arisen? How do we make sure institutions can provide capital and credit to the economy?
SIFMA convenes hundreds of broker-dealers, investment banks and asset managers, representing one million industry employees across the nation. Together, we are invested in America, serving clients large and small. This report contains our insights into how markets performed, viewpoints on critical policy issues and several helpful resources.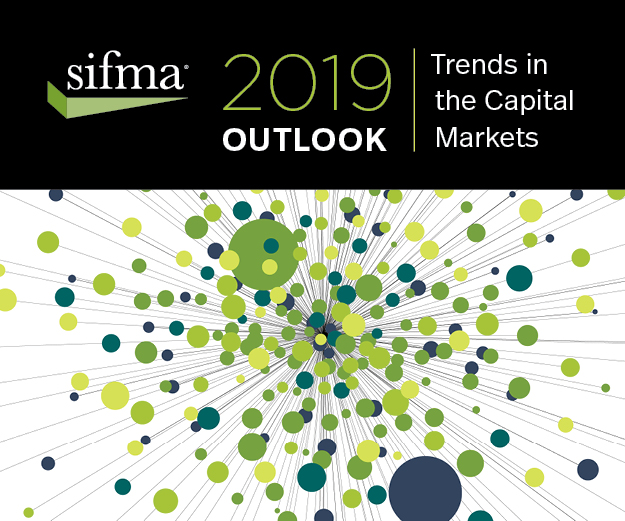 What's Inside
Market Insights
Capital Markets Depth and Liquidity
Market Structure: Efficiency & Resiliency Key to Capital Markets Strength
Equities Markets: Volatility Picked Up, Volumes Started to Follow
Capital Formation: Hurdles Continue, or Do They?
Fixed Income Markets: The Transformation Continues
Private Wealth Management: Savings and Wealth Creation and The Role of the Financial Advisor
Opportunities in Fintech and Operations
Policy Viewpoints
Cybersecurity Remains Priority One
Safe Handling of Personally Identifiable Information
Enhancing Investor Protection with Reg BI
Protecting Senior Investors
Fixing the Broken Fee Structure for Market Data
Looking Across Geographical Borders
Seeking Recalibration and Global Harmonization of Financial Regulation
The Two-Track Regime
A Spider Web of Regulations
CAT Implementation Moves Ahead
About SIFMA
Our Mission
Our Members
The GFMA Partnership
Our Committees
Community
Resources
2018-2019 Board Officers
Key Contacts
How Markets Work
2019 Conferences & Events
Business Continuity Planning and Cybersecurity
2019 US Holiday Schedule
Terms to Know
More Submissions
SIFMA developed this white paper to demonstrate the fundamental role the U.S. financial services industry plays in the U.S. economy…
SIFMA commissioned Ernst & Young LLP (EY US) to prepare this report, which presents estimates of the overall economic contribution…
SIFMA submitted the following White Paper to the SEC prepared by Professor Craig M. Lewis entitled "Economic Analysis of Proposed…