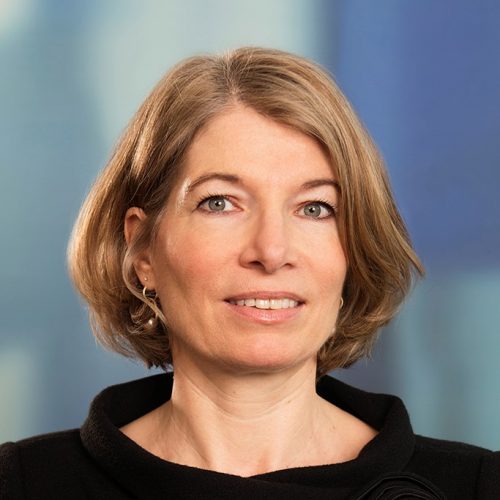 Judith Seddon
Judith Seddon is global co-head of Ropes & Gray's white collar and government enforcement practice.
Named Business Crime Lawyer of the Year by Who's Who Legal 2018, Judith was listed as one of those "truly outstanding practitioners and the very best in their field." They described her as "one of the most highly regarded investigations lawyers in the UK, highlighted for her "brilliant" work on behalf of both corporates and individuals." She was named as a Global Elite Thought Leader in Business Crime in 2019 and 2020.
Judith is a leading and consistently ranked band 1 practitioner specialising in white-collar crime, fraud, money laundering, corruption and regulatory and criminal investigations and prosecutions. A client recently noted "Judith Seddon gives Ropes & Gray one of the best-known lawyers in this space in London and her reputation for hard work, intellectual rigour and strategic thinking is well-deserved." She has successfully represented corporate clients including leading financial institutions, in some of the most significant and complex investigations mounted by the SFO and FCA in the UK and by prosecuting authorities across the globe. Clients note she "counsels and advises with intelligence and caution and has tremendous credibility with regulators." She has successfully represented individuals in a number of the highest profile investigations. Judith has conducted numerous internal investigations for clients involving highly sensitive matters, successfully defended clients against threatened actions by the SFO and FCA and other government agencies, including the Competition and Markets Authority, and guided clients through the myriad and often unexpected challenges of navigating cross-border investigations.
Following a highly successful academic career, Judith's professional career began at a leading specialist criminal law practice in central London led by former white collar specialist, Rod Fletcher. There she appeared as a defence advocate in court on a number of occasions and led the preparation of the defence in high profile prosecutions, including the prosecution of police officers, some of high rank, from the Metropolitan Police's Flying Squad, at the Central Criminal Court. She made partner there in 2002. In 2008 she moved to a Magic Circle firm, where she became director in 2011 and partner in 2014; she was one of the first criminal law practitioners to join a Magic Circle firm as the need for specialist criminal practitioners, to deal with the growth of investigations and prosecutions of white collar crime became essential. She joined Ropes & Gray in 2018.
She co-edits GIR's "The Practitioner's Guide to Global Investigations," now in its fourth edition. She is a regular speaker, panel member and chair at conferences both in the UK and overseas.
Described by Chambers as "excellent" and by Who's Who Legal as "sharp and clever" she is acknowledged by her peers, clients and the legal press as a thoroughgoing and trenchant litigator, with an eye for detail yet strategic, committed and indefatigable in the representation of her clients.