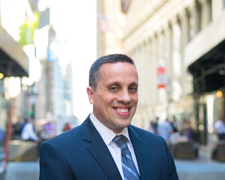 Frank Giannico
Frank has been with Deutsche Bank since June of 1997, where he began as an Operations intern for that summer.
After graduating with a BBA degree in Finance from Pace University in 1998, Frank joined Deutsche full time. Coming on board in then the Neutral Control department, now the Divisional Control and Regulatory Office, he has been performing, and now supervising, various regulatory reporting obligations for Deutsche Bank Securities, including the  15c3-3 customer reserve formula, 17a-13 outgoing audit confirmations, and Rule 4560 short interest reporting.
A Brooklyn native, Frank joined the FMS' Future Leaders Committee in 2013, where he is excited by what SIFMA offers for networking and development.