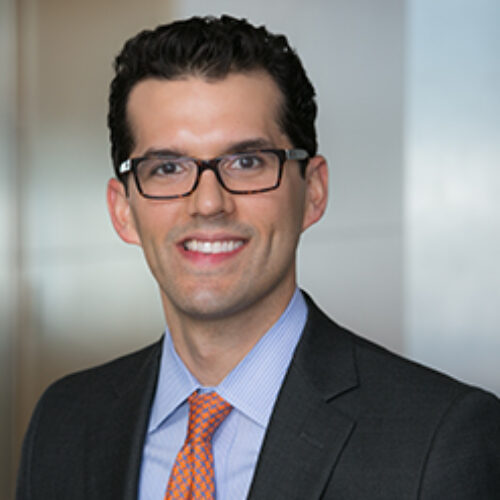 David L. Portilla
David L. Portilla is a corporate partner and a member of the firm's Financial Institutions Group and Banking Group. His practice focuses on advising international and domestic banking organizations and other financial institutions on transactional, regulatory, supervisory and governance matters.
Mr. Portilla has particular experience in matters relating to financial regulatory reform, including the Volcker Rule, enhanced prudential standards and the prudential regulation of nonbank financial companies. Mr. Portilla is recognized as a ranked lawyer for Chambers USA (2019-2020), where he is identified as an "absolutely phenomenal young lawyer" who "always knows exactly what you're talking about." Clients also describe him as "responsive and accessible." In addition, he is named a Next Generation Partner by The Legal 500 US (2017-2020) in Financial Services Regulation, where he has been described as "an invaluable resource to clients seeking highly strategic guidance which is cognisant of the 'mood music' emanating from the Hill" and as having "deep knowledge" of the regulatory landscape for foreign banking organizations. Mr. Portilla is also recognized as a Rising Star by IFLR1000 (2020).
His work includes representing the main trade organizations in the financial services industry, including the American Investment Council, European Banking Federation, Financial Services Forum, Investment Company Institute, and the Securities Industry and Financial Markets Association.
In addition, he is an active thought leader on emerging issues that dominate the banking industry. Mr. Portilla's views are regularly sought out by clients and industry watchers alike looking to better understand today's ever-changing market and regulatory landscape. His insights have appeared in a wide range of media, including The Wall Street Journal, The Washington Post, CNN.com, American Banker, Law360 and International Financial Law Review. He is the co-author, with Amias M. Gerety, of the article, "FSOC: Early Years to Lasting and Evolving Role," and with Mary Jo White, of the article, "Crisis Management in the Banking Industry."
Prior to joining Debevoise in 2013, Mr. Portilla was a senior policy advisor to the U.S. Department of the Treasury's Financial Stability Oversight Council (FSOC) office. He was a member of the initial team that established the FSOC and helped develop its substantive agenda, operating procedures and governance structures. He was the lead staff member responsible for coverage of Dodd-Frank Act implementation and other financial institutions regulatory issues and worked on a number of significant matters, including the interagency rulewriting process for the Volcker Rule, enhanced prudential standards, and developing the FSOC's policy for the use of "living wills."
He is a member of the Bar of New York, the District of Columbia Bar, the American Bar Association and its Business Law Section and Banking Law Committee, and the New York City Bar (and is a prior member of its Banking Law Committee). He is also Vice-Chair of the Systemically Important Financial Institutions Sub-Committee of the American Bar Association's Banking Law Committee.
Mr. Portilla received his J.D. from Rutgers School of Law with highest honors in 2006, where he was inducted into the Order of the Coif. He received a B.A. with honors from Rutgers University in 2002.