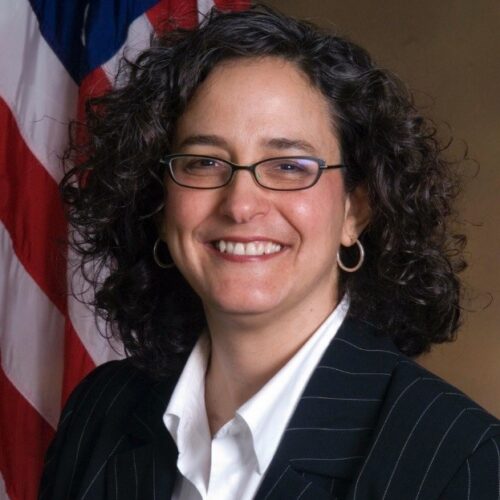 Andrea Sharrin
Andrea Sharrin is the Associate Director for the Policy Division of the Financial Crimes Enforcement Network (FinCEN). In this capacity, she oversees FinCEN's regulatory functions and leads the staff that defines the framework for protecting the U.S. financial system from money laundering, terrorist financing, and other illicit finance. The Policy Division is responsible for drafting complex and diverse Bank Secrecy Act (BSA) rules, clarifying guidance, issuing regulatory rulings, as well as addressing broader strategic policy issues in the area of anti-money laundering and countering the financing of terrorism, including the drafting of advisories for financial institutions.
Prior to assuming this position, Ms. Sharrin served as FinCEN's Director of the Office of Compliance and Enforcement in the Enforcement Division with the responsibility over FinCEN's BSA compliance and enforcement program, including developing and implementing compliance and enforcement strategies, supervising investigations, enforcement actions and other activities that have industry-wide, national, and international impact. Ms. Sharrin previously served as Deputy Chief of the Computer Crime and Intellectual Property Section, Criminal Division, Department of Justice (DOJ). She supervised 14 prosecutors and was responsible for DOJ's intellectual property enforcement program, including developing and implementing intellectual property enforcement strategies, litigation priorities, legislative and policy initiatives and domestic and international training and outreach.
Andrea also served as an Assistant U.S. Attorney in the District of Columbia where she prosecuted a wide variety of criminal cases involving narcotics, weapons, violent crime and other felony offenses. She also has significant civil litigation experience. Andrea was a Director for Civil Litigation in the Recording Industry Association of America, where she supervised intellectual property litigation involving copyright and technology issues for the music industry. She also served as Senior Counsel to the Federal Programs Branch, Civil Division, Department of Justice, where she litigated cases raising constitutional, statutory and administrative challenges to federal laws, regulations and policies, as well as employment discrimination cases. Andrea began her legal career as a law clerk to the Honorable Lowell A. Reed, Jr., U.S. District Court for the Eastern District of Pennsylvania. Andrea is currently an Adjunct Professor of Law at Georgetown University Law Center.