Sponsor/Advertise 
SIFMA's 14th Annual Anti-Money Laundering (AML) and Financial Crimes Conference is one of the securities industry's most important events, bringing together leading experts from the industry, regulatory agencies, and law enforcement to discuss recent developments and provide practical guidance related to anti-money laundering compliance and illicit financing activity. We are pleased to invite you to participate through sponsorship opportunities available during our must-attend conference!
There will be pre-conference day workshops held on Wednesday, January 29th, which are geared to providing practical guidance to industry and AML professionals, followed by the main conference which will take place on Thursday, January 30th.

Sponsorship Benefits - The program and showcase of sponsors throughout SIFMA's Anti-Money Laundering and Financial Crimes Conference are designed to provide you with direct access to the AML, legal/regulatory and compliance audience.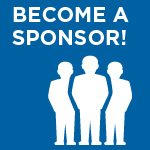 Sponsorship and Exhibit Opportunities
Click to view this comprehensive guide to all sponsorship opportunities at the Anti-Money Laundering and Financial Crimes Conference.
Questions? Contact Antonella DiBello at 212.313.1261 or Meredith Atkinson Marbach at 212.313.1292.
Our Sponsors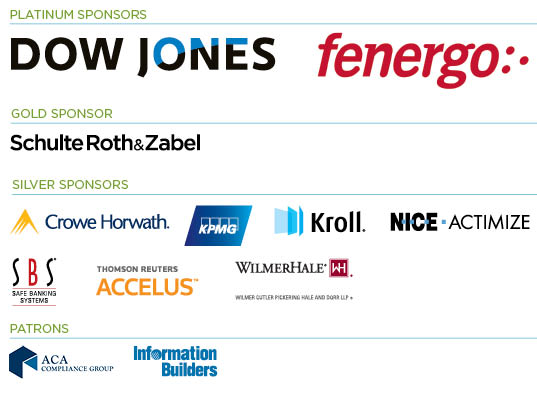 ACA Compliance Group
ACA Compliance Group ("ACA") is a full-service, global compliance consulting firm founded in 2002.  We are headquartered in New York City and maintain regional offices across the US, Europe, and Asia.  Our consultants comprise more than 50 former SEC, FINRA, NYSE, NFA, FSA (now FCA), and state regulators along with former senior compliance managers from prominent financial institutions.  Drawing on their comprehensive expertise and experience, our consulting staff provides unparalleled regulatory compliance and GIPS® verification services to US and global investment advisers, private funds, investment companies, and broker-dealers.  ACA assists these firms in mitigating risk and complying with new and existing regulatory requirements, focusing at all times on helping clients understand, implement, and maintain the compliance policies and procedures they need to succeed in today's increasingly challenging regulatory environment.  By partnering with ACA, our clients can be confident of the quality and comprehensiveness of their compliance programs. ACA provides assurance through experience.  For more information, please see www.acacompliancegroup.com.

Contact:  www.acacompliancegroup.com

Learn more about ACA Compliance Group. (PDF)
Crowe Horwath LLP
Crowe Horwath LLP is one of the largest public accounting and consulting firms in the United States.  Under its core purpose of "Building Value with Values®," Crowe uses its deep industry expertise to provide audit services to public and private entities while also helping clients reach their goals with tax, advisory, risk, and performance services.  With a total of more than 3,000 personnel, Crowe and its subsidiaries have offices coast to coast.  Crowe serves clients worldwide as an independent member of Crowe Horwath International, one of the largest global accounting networks in the world, consisting of more than 150 independent accounting and advisory services firms in more than 100 countries around the world.  Crowe provides risk management services to over 400 financial institutions of all sizes and risk profiles and is the only American Banker Association (ABA) endorsed provider of risk consulting services, including regulatory compliance and BSA/AML.    

Contact:  Brookton Behm, CAMS, Principal - Financial Crime Risk Practice Leader, Crowe Horwath LLP | 616.233.5566 | Brookton.behm@crowehorwath.com | www.crowehorwath.com/risk  

Learn more about Crowe Horwath LLP (PDF)
Dow Jones
Dow Jones & Company is a global provider of news and business information, delivering content to consumers and organizations via newspapers, Web sites, apps, video, newsletters, magazines, proprietary databases, conferences, and radio.  Dow Jones has produced unrivalled quality content for over 120 years and today has one of the world's largest news-gathering operations with nearly 2,000 journalists in more than 80 bureaus, including The Wall Street Journal, America's largest newspaper by paid circulation.  Other premier brands include Barron's, MarketWatch, and DJX, its flagship news and analytics platform.  Dow Jones publishes in 13 languages and distributes content in 28 languages, combining technology with news and data to support business decision making.  The company pioneered the first successful paid online news site and its industry leading innovation enables it to serve customers wherever they may be, via the Web, mobile devices, Internet-connected televisions, and tablets.

Contact:  www.dowjones.com
Fenergo
Fenergo is a global leader in Client Lifecycle Management software solutions for capital market firms and investment banks.  Its world-class client onboarding workflow technology streamlines onboarding, account opening and client maintenance processes, while delivering regulatory onboarding processes that ensure compliance with global and local regulations such as AML, KYC, Dodd-Frank, FATCA, MiFID and EMIR based on clean, golden source entity data.  These award-winning solutions enable financial institutions to significantly improve time-to-revenue, regulatory compliance, client experience, and reduce overall operational costs.

Contact:  Jason Yesinko, Account Director, Fenergo, 470 Atlantic Avenue, Suite 4051, Boston, MA 02210 | info@fenergo.com | www.fenergo.com  

Learn more about Fenergo. (PDF)
Information Builders
Information Builders delivers world-class business analytics, visualization, mobile, social discovery, integration and data quality to the world's banks.  In fact, nine of the ten largest U.S. banks, five of five of the largest Canadian banks, and 24 of the 29 G-SIFI institutions rely on Information Builders.  Only Information Builders safely delivers analytics outside the firewall to your retail, small business and institutional customers - securely and reliably with full auditability.  Information Builders is one of the largest independent, privately-held companies in the industry, headquartered in New York, NY.  Visit us at informationbuilders.com and follow us on Twitter at @infobldrs.

Contact:  Pete Melroy, Sales Manager, Information Builders, Two Penn Plaza, New York, NY 10121 | 917.339.5642 | Peter_Melroy@ibi.com | www.informationbuilders.com   
KPMG LLP
KPMG Forensic is an international network of professionals committed to helping businesses prevent, detect, and respond to serious integrity risks.  Our diverse team, recently ranked as the #1 AML consultant three years in a row, assists financial institutions to develop, implement, and maintain a risk-based AML strategy in efforts to protect the institution from risks associated with money laundering, terrorist financing, and other financial crimes.  We help develop programs to support proactive compliance with the Bank Secrecy Act (BSA) and the USA PATRIOT Act, as well as implement regulatory requirements aligned to the organization's unique BSA/AML risk profile.  KPMG has provided AML advisory assessments worldwide, and contributed to some of the largest AML investigations and program rehabilitations in recent history.  The lessons we've learned coupled with our track record working at and with regulators, allow us to understand what meets compliance standards while also making commercial sense for our clients.

Contact:  www.kpmg.com/us/forensic

Learn more about KPMG LLP. (PDF)
Kroll
Kroll, the global leader in risk mitigation and response, delivers a wide range of solutions that span investigations, due diligence, compliance, cyber security and physical security.  Clients partner with Kroll for the highest-value intelligence and insight to drive the most confident decisions about protecting their companies, assets and people.  Kroll Compliance offers a full range of services to address Anti-Money Laundering (AML) concerns including assessments, program development, investigations, screening and remediation.  We also provide services to assist with entering new markets, taking a company public and making new investments.  From AML screening and remediation, to transactional, IPO and market entry situations, Kroll's spectrum of due diligence and technology solutions allows our clients to address all levels of risk and drive informed decision-making.

Contact:  Dorian Baker, Managing Director - Business Development, Kroll Compliance, 600 Third Avenue, New York, NY 10016 | 212.833.3309 |  dbbaker@kroll.com | www.kroll.com     

Learn more about Kroll. (PDF)
NICE Actimize
NICE Actimize is the largest and broadest provider of financial crime, risk and compliance solutions for regional and global financial institutions, as well as government regulators.  Consistently ranked as number one in the space, NICE Actimize experts apply innovative technology to protect institutions and safeguard consumers and investors assets by identifying financial crime, preventing fraud and providing regulatory compliance.  The company provides real-time, cross-channel fraud prevention, anti-money laundering detection, and trading surveillance solutions that address such concerns as payment fraud, cybercrime, sanctions monitoring, market abuse, customer due diligence and insider trading.  For more information, please visit www.niceactimize.com.

Contact: Felicia Mutdhastira,NICE Actimize, 1359 Broadway, 5th Floor, New York, NY 10018 | 212.994.3866 | feliciam@niceactimize.com |www.niceactimize.com

Learn more about NICE Actimize. (PDF) 
Safe Banking Systems
For over a decade, Safe Banking Systems ("SBS") has been "thinking ahead of the risks" to help the financial community and other companies manage enterprise risk.  SBS solutions for AML, fraud and compliance solve key KYC/CDD/EDD issues and find the "bad guys" that other systems miss.  SAFE Advanced Solutions® is an integrated suite of software and services that facilitates complex entity resolution tasks related to sanctions, PEPs, high-risk and negative news screening.  It combines a unique, patented methodology for daily exposure ranking with a probabilistic model that identifies the most likely to-be-true matches to produce powerful alert scoring results.  SAFE Advanced Solutions® offers comprehensive functionality for List Management, Entity Resolution, Research, Investigation and Reporting and is designed with maximum scalability.  A hosted surveillance model offers the benefits of balancing risk mitigation with sustainable costs.

Contact:  Joseph Spector, Vice President, Sales – North America, Safe Banking Systems, LLC, 114 Old Country Road, Suite 320, Mineola, New York 11501 | 631.547.5400 | joseph.spector@safe-banking.com | www.safe-banking.com 

Learn more about Safe Banking Systems. (PDF)
Schulte Roth & Zabel LLP
Schulte Roth & Zabel LLP is a multidisciplinary law firm serving the full transactional, litigation and compliance needs of the financial services industry from offices in New York, Washington, D.C. and London.  We have deep experience counseling financial institutions, including securities firms, investment advisers, mutual funds, banks and FCMs.  In particular, our advisory and litigation practice addresses securities and bank regulatory compliance and enforcement issues.  Staffed with former SEC Division of Enforcement members, Assistant U.S. Attorneys, a former FinCEN attorney, as well as former regulatory counsel for major investment banks, we efficiently and effectively conduct internal investigations and represent clients in examinations, investigations and actions brought by the DOJ, SEC, CFTC, FINRA, regional exchanges, state and local prosecutors and state securities regulators.  We also represent clients on corporate compliance issues arising under AML statutes and regulations, OFAC sanctions programs and the FCPA.  Our advisory work includes counseling investment banking institutions, Nasdaq market-makers, institutional and retail brokerage firms, clearing firms and prime brokerage firms, investment funds, managers, national accounting firms, public and private companies and officers and directors on registration and ongoing compliance matters.

Contact: Betty Santangelo, Schulte Roth & Zabel LLP, 919 Third Avenue, New York, NY 10022 | 212.756.2587 | betty.santangelo@srz.com | www.srz.com  

Learn more about Schulte Roth & Zabel LLP. (PDF)
Thomson Reuters Accelus
Thomson Reuters Accelus brings together market-leading solutions for global regulatory intelligence, financial crime, anti-bribery and corruption, enhanced due diligence, compliance management, internal audit, training and e-learning, risk management, and board of director and SEC disclosure services.  Accelus' approach to addressing Know Your Customer (KYC), risk assessment, and anti-money laundering (AML) requirements is unique and trusted across the industry.  Our solutions deliver a total end-to-end connection, bringing together regulatory obligations, policies, Know Your Customer tasks, transaction monitoring, and enhanced due diligence through a unified risk-based approach. Solutions include:  World-Check Risk Intelligence, IntegraScreen Reports for Due Diligence, Accelus Relationship Risk Management, Accelus eLearning, and Accelus Regulatory Intelligence.  Please visit accelus.thomsonreuters.com for more information. 

Contact: Thomson Reuters Accelus, 3 Times Square, New York, NY 10036 | 646.223.8880 | accelus.thomsonreuters.com  

Learn more about Thomson Reuters Accelus. (PDF)
WilmerHale
WilmerHale offers unparalleled legal representation across a comprehensive range of practice areas that are critical to the success of our clients.  We practice at the very top of the legal profession and offer a cutting-edge blend of capabilities that enables us to handle deals and cases of any size and complexity.  We are 1,000 lawyers strong, with 15 offices in the United States, Europe and Asia, and are committed to quality and excellence, ensuring the success of our clients around the globe.  With the increasing frequency and severity of anti-money laundering (AML) penalties, the business need for AML regulatory counseling and enforcement defense has never been greater.  WilmerHale is a recognized leader in both areas, representing banks, broker-dealers and other traditional financial institutions, as well as institutions such as mutual funds, insurance companies, hedge funds, investment advisers, money services businesses and others that historically have not had to address AML issues.

Contact:  www.wilmerhale.com

Learn more about WilmerHale. (PDF)

SIFMA's Strategic Partners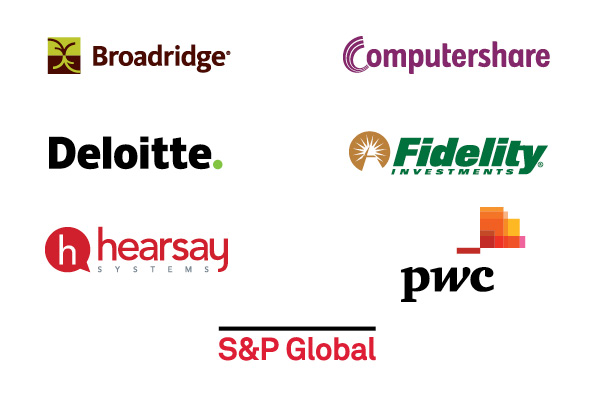 ---
---