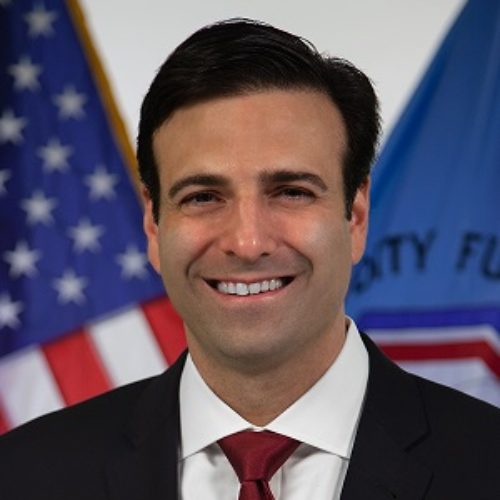 Chairman Heath P. Tarbert
Dr. Heath P. Tarbert is Chairman and Chief Executive of the U.S. Commodity Futures Trading Commission (CFTC). He was nominated for a term expiring on April 13, 2024 and took office on July 15, 2019. The mission of the CFTC is to promote the integrity, resilience, and vibrancy of the U.S. derivatives markets through sound regulation.  The agency's approximately 700 personnel based in Chicago, Kansas City, New York, and Washington, DC also work to ensure U.S. commodities and derivatives markets are free of fraud and manipulation. Chairman Tarbert also serves as a voting member of the Financial Stability Oversight Council (FSOC) and as a member of the President's Working Group on Financial Markets.
Chairman Tarbert has extensive experience in financial services law and has served in senior leadership roles in the public and private sector. Most recently, he served as Assistant Secretary for International Markets and subsequently as acting Under Secretary for International Affairs at the U.S. Department of the Treasury. In these roles, Chairman Tarbert served as the G-7/G-20 Deputy Finance Minister, a member of the Financial Stability Board, and the co-chair of both the US-EU Financial Regulatory Forum and the US-UK Financial Regulatory Working Group. Prior to his service at the Treasury Department, Chairman Tarbert was head of the bank regulatory practice of Allen & Overy LLP, a leading global law firm.
Other Public Service
Policy Chair, U.S. Committee on Foreign Investment in the United States (CFIUS) (2017-2019)

U.S. Executive Director, World Bank Group (2017-2018)

Special Counsel, U.S. Senate Committee on Banking, Housing, and Urban Affairs (2009-2010)

Associate Counsel to the President of the United States, The White House (2008-2009)

Law Clerk, Chambers of Honorable Clarence Thomas, Associate Justice of the Supreme Court of the United States (2007-2008)

Attorney-Advisor, Office of Legal Counsel, U.S. Department of Justice (2006-2007)

Law Clerk, Chambers of Honorable Douglas H. Ginsburg, U.S. Court of Appeals for the District of Columbia Circuit (2005-2006)
Public Service Awards
Alexander Hamilton Award, U.S. Department of the Treasury (2019)

Outstanding Public Service Award, U.S. Department of Defense (2019)
Select Professional Certifications
Chartered Financial Analyst (CFA)

Certified Public Accountant (CPA)
Select Professional Affiliations
Elected Member, American Law Institute (2017-Present)

Life Fellow, American Bar Foundation (2016-Present)

Board of Advisors, Review of Securities and Commodities Regulation (2015-2017)

Legal Advisor, Systemic Risk Council (2015-2017)

Chairman, Subcommittee on Systemically Important Financial Institutions, Banking Law Committee, American Bar Association (2014-2017)

Senior Fellow, Harvard Law School Program on International Financial Systems (2013-2017)
Board of Editors, Banking Law Journal (2011-2017)

Life Member, National Eagle Scout Association (1991-Present)
Education
DPhil, Comparative Law, Oxford University (2005)

SJD, Financial Regulation, University of Pennsylvania (2002)

JD, magna cum laude, University of Pennsylvania (2001)
BS, summa cum laude, Mount St. Mary's University (1998)