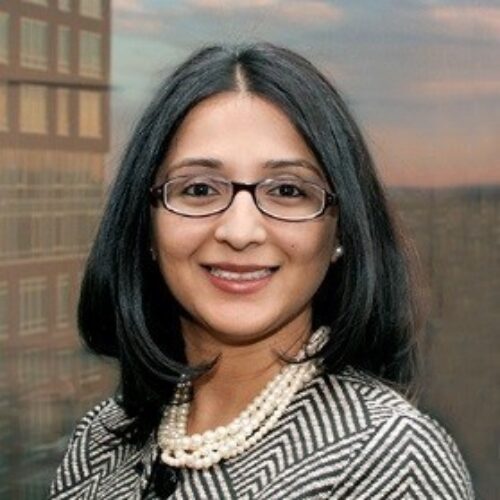 Trusha Mehta
Trusha Mehta is the Diversity & Inclusiveness (D&I) Leader for the Financial Services Office (FSO). She has over 18 years of experience in the diversity and inclusion space. She is responsible for driving FSO's D&I strategy by designing programs and processes that aim to enhance diversity of thought and build inclusive leadership skills for our people. She teams very closely with the FSO Diversity & Inclusiveness (D&I) Steering Committee, comprised of executive champions at the Service Line and Market Segment levels. Trusha spends a significant portion of her time connecting with clients in best practice sharing meetings or advising account teams on joint D&I events.
Trusha is passionate about being aware of and then shaping programs that directly address the ground reality. Towards that end, she is active in industry events and often travels to attend meetings with local leaders and conferences and forums targeting minority/women/LGBT/Accessibilities associations nationwide. She is actively involved in coaching and mentoring the next generation of leaders at EY.
Trusha was selected to EY's prestigious 2008 Corporate Responsibility Fellows program where she worked for three months in Montevideo, Uruguay with CEPA, a provider of fleet consulting and driving safety training. Her consulting and organizational development skills helped create CEPA's strategic plan, and restructured the company's four Latin American offices.
Trusha also served five years on the Board of Directors of the National Association of Asian American Professionals (NAAAP), New York chapter. She was elected as the chapter president for three consecutive years and under her leadership, the New York chapter was awarded Chapter of the Year for two years in a row.
Trusha currently serves as a Board of Directors for Nazdeek, a legal empowerment non-for-profit organization committed to bringing access to justice closer to marginalized communities in India, particularly the tea plantations in Assam.
Trusha was recognized as one of 25 leaders in the Diversity field in April 2017 by the City & State New York for her outstanding commitment and impact to equity.
Trusha received her BA in psychology and sociology from King's College in Wilkes-Barre, PA and an MA in organizational psychology from Columbia University in New York, NY.