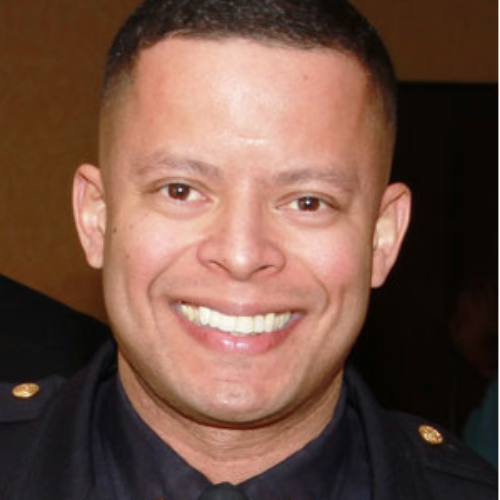 Gustavo A. Rodriguez
Lieutenant Gustavo A. Rodriguez is 42 years old and is a member of the New York City Police Departments Intelligence Bureau.
Lieutenant Rodriguez joined the New York City Police Department (NYPD) in 1998. He has held uniformed and investigative post throughout his career working in the 041st, 20th, 19th precincts, Intelligence Bureau and Police Commissioners Office. His responsibilities have included Patrol, Street Narcotic Enforcement, Anti-Crime and Field Intelligence Officer functions.  In September of 2009, Lieutenant Rodriguez was selected to represent the NYPD at the Center for Homeland Defense and Security at the Naval Post Graduate School in Monterey, California to pursue a Master's Degree in Homeland Security. There he penned a thesis titled Creating Domestipol: Increasing National Resilience by Reflecting on the NYPD Counter Terrorism Model. Domestipol was awarded the Senator John Warner Homeland Security award in December of 2010 and it centers on better communication and intelligence dissemination among police agencies across the nation.
In June of 2011, Lieutenant Rodriguez served in the NYPD's International Liaison Program (ILP) as the department representative with the Singapore Police Force.  With the ILP program, intelligence officers are stationed in 12 international cities, working with law enforcement agencies to provide firsthand, in-depth analysis to New York City. The world-wide presence allows NYPD officers at the scene of a terrorist attack to provide information to the NYPD's counterterrorism command structure.
Upon his return from Singapore in June of 2013, Lieutenant Rodriguez was assigned to complete a fellowship at the FBI's National Cyber Investigative Joint Task Force (NCIJTF) in Washington D.C. In 2008, the U.S. President mandated the NCIJTF to be the focal point for all government agencies to coordinate, integrate, and share information related to all domestic cyber threat investigations. The FBI is responsible for developing and supporting the joint task force, which includes 19 intelligence agencies and law enforcement, working side by side to mitigate cyber terrorism. Lieutenant Rodriguez is currently assigned to the FBI Cyber Branch, Cyber Terrorism Squad, in the New York Field Office.
Lieutenant Rodriguez holds a Bachelor's Degree in Political Science from the City University of New York at Hunter College, a Master's Degree in Public Administration from Marist College and a Master's Degree in Homeland Security from the Center for Homeland Defense and Security at The Naval Post Graduate School.