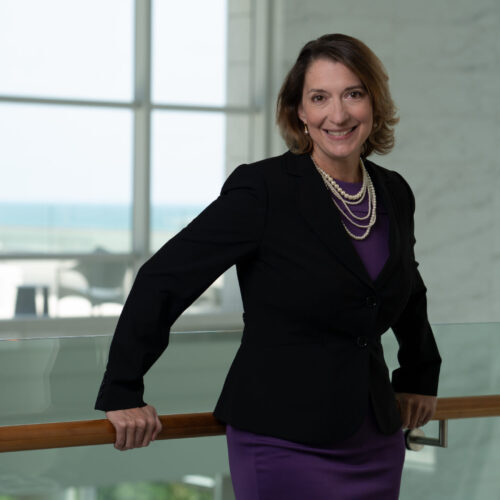 Evamarie Schoenborn
Evamarie Schoenborn is president and CEO of Northwestern Mutual Wealth Management Company. She is responsible for the overall business strategy for Northwestern Mutual's retail investment products and services. She joined Northwestern Mutual in 2017 and is responsible for its retail investment, advisory, trust solutions, new product development and regulatory strategy. She has led the organization through a conversion to a new trading platform, stood up a training team, created a delivery office, expanded into new product offerings, delivered a new trust services model, influenced key strategic partnerships and carried the organization through a heightened regulatory standard for the industry.
Evamarie serves as a strong advocate for Northwestern Mutual's advisors, teams, clients and employees. She believes that we serve a critical role in society, helping clients navigate their financial lives with emotional intelligence, empathy and authenticity. Currently, her team is responsible for $175 billion in client assets, making it one of the five largest independent broker-dealers in the United States.
Evamarie has more than 20 years of wealth management industry experience. Prior to Northwestern Mutual, she was vice president – wealth management at the second-largest independent broker-dealer in the industry, where her experience spanned products, operations and regulatory strategy for multiple product lines.
Evamarie plays a formal role in Northwestern Mutual's diversity and inclusion efforts, and she actively advocates for investor success and greater diversity within the industry. She serves on the board of directors for the Financial Services Institute (FSI), is co-chair of the Securities Industry and Financial Markets Association's (SIFMA) private client group, and a member of the SIFMA advisory council. Evamarie is passionate about evolving our industry into the future. In that vein, she serves on the advisory council for Next Chapter. Next Chapter represents a collaboration of thought leaders from across the financial services industry seeking to envision the future of the industry and the steps firms can take to propel their firms toward that future.
In our community, she creates brighter futures for kids through serving as an active member of the development committee for the Boys and Girls Club of Greater Milwaukee.
Evamarie holds a B.A. and a M.B.A. from St. Cloud State University. She and her partner Andrew are avid travelers who enjoy learning about the history, architecture and diverse perspectives of the world.
View on LinkedIn