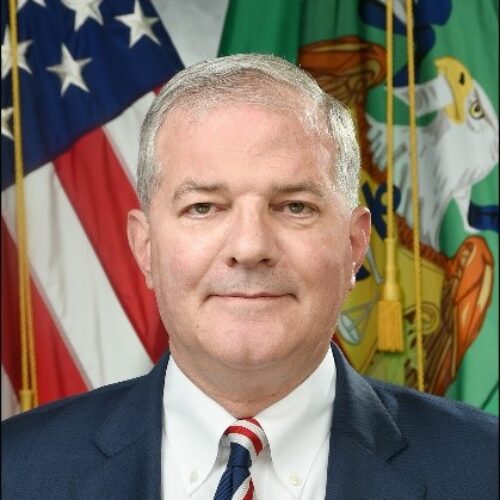 David Lacquement (MG, U.S. Army Ret.)
David Lacquement was appointed by Treasury Secretary Steven T. Mnuchin as the Deputy Assistant Secretary of the Treasury for Cybersecurity and Critical Infrastructure Protection.  In this role, Mr. Lacquement focuses on safeguarding the Financial Services Sector from cyber threats that could impact U.S. national and economic security and is leading work to identify and remediate financial infrastructure vulnerabilities.  Mr. Lacquement works closely with financial institutions, industry groups, and government partners to share information about cybersecurity and physical threats and vulnerabilities, encourage the use of baseline protections and best practices, and respond to and recover from significant incidents.
Mr. Lacquement collaborates with the Intelligence Community, law enforcement, and financial sector firms to identify threats and vulnerabilities to the financial sector and facilitate the sharing of timely, reliable, and actionable information to mitigate risks, improve incident response, and limit contagion across the financial sector.
Through his international outreach, Mr. Lacquement co-chairs the G-7 Cyber Expert Group (CEG) to promote effective practices for cybersecurity and build greater resilience within the international financial services sector.
Prior to rejoining government service, Mr. Lacquement served as a consultant cyber operations after a successful 36 year career in the U.S. Army retiring as Major General and Director of Operations, J-3, USCYBERCOM.  As the first J3, he played a lead role in the establishment of the Command where he and directed the operation and defense of the Department of Defense's communications networks and planned and executed offensive cyber operations for the Department.
His military assignments included tours as Commanding General of the U.S. Army Intelligence and Security Command at Fort Belvoir, VA; Chief of Staff for Intelligence, C-2, Multi-National Force-Iraq supporting OPERATION IRAQI FREEDOM during the surge; Assistant Chief of Staff for Intelligence, J-2, United States Southern Command, Miami, Florida; and Assistant Chief of Staff for Operations, G-3, U.S. Army Intelligence and Security Command, Fort Belvoir, VA.
Mr. Lacquement holds advanced degrees from National Intelligence University, U.S. Army Command & General Staff College, School of Advanced Military Studies, and the National Defense University.  He completed his undergraduate studies at Western Maryland College (now, McDaniel College).