Senior executives from SIFMA member firms gather with the foremost policymakers, regulators and financial market experts at SIFMA's Annual Meeting, The Capital Markets Conference. Find out why you should attend and register today to join us on November 18-19, 2019 at the JW Marriott Washington, DC.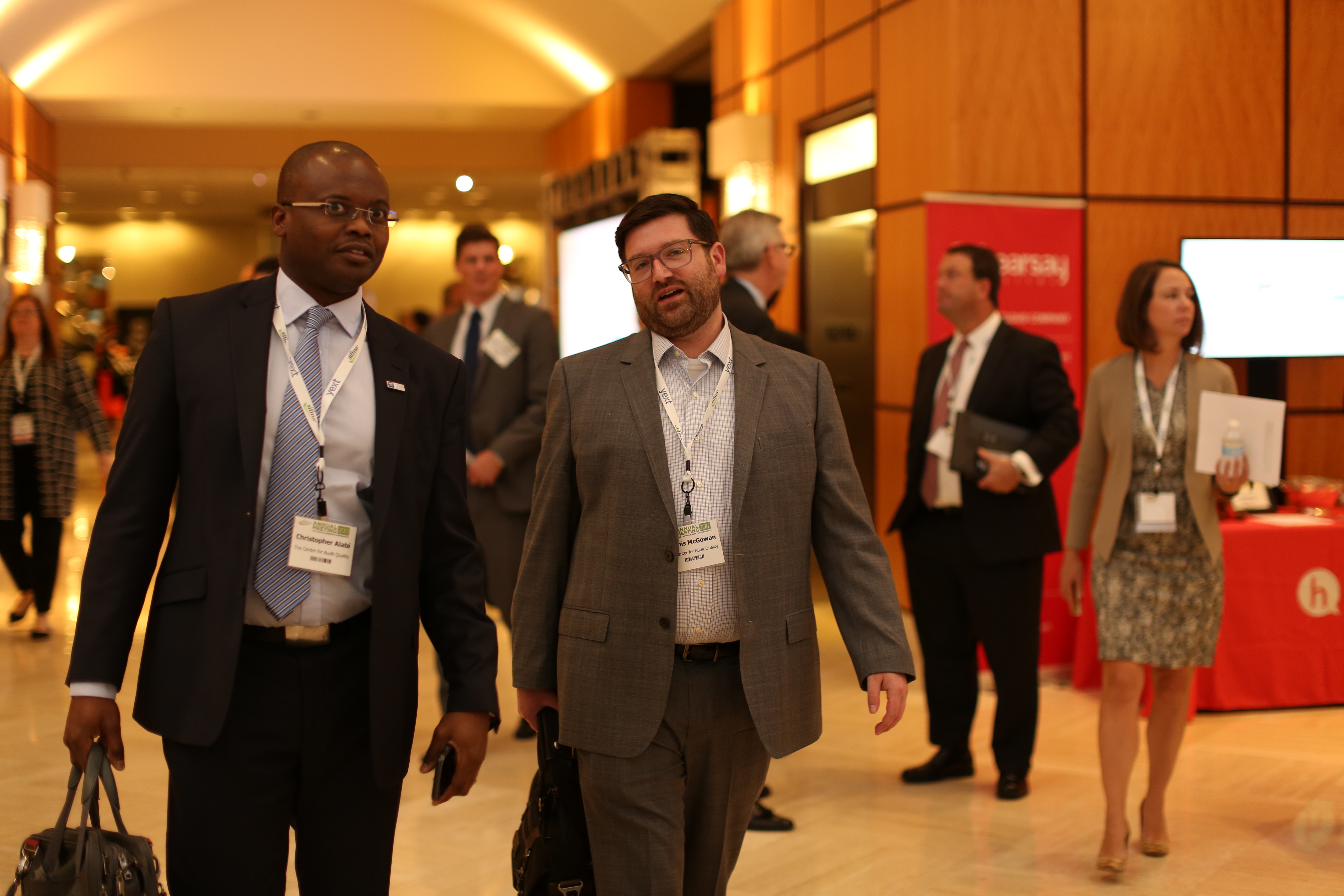 Testimonials from Past Delegates
Probably the most important thing is the opportunity to network with colleagues… to be able to spend time with each other within the industry, collaborating, looking at some of the bigger issues that we all face and working together to try to find solutions.

SIFMA's Annual Meeting is an excellent forum for buy-side, sell-side, platforms, regulators – all market participants – to come together and hear one another's perspectives.

I attend SIFMA's Annual Meeting because 1) it's a great networking opportunity, 2) it is a great way to learn, and 3) the industry is coming together to think about ways that we can collaborate to solve challenges.

It's an opportunity to get a ton of useful information, network with the right people and really get an opportunity to see what's going on in the industry, what's current.
Who Attends
Chief Executive Officers

 

Chief Financial Officers

 

Chief Information Officer

s

Chief Operating Officers

 

General Counsels

 

Chief Compliance Officers

 

Heads of Business Units

 

Heads of Strategy and Risk 

 

Heads of Regulatory and Government Affairs

 
Select Companies in Attendance
These firms and more are registered to attend in 2019:
Aegis Capital Corp.
Alabama Securities Commission
Americans for Tax Reform
Ameriprise Financial Services, Inc.
Apollo Global Management, LLC
AQR Capital Management, LLC
Ares Management LLC
Axiom Global Inc.
B. Riley Wealth Management
Bank of America Corporation
Bank of Montreal
Bank of Nova Scotia
Barclays
BB&T Capital Markets (a division of BB&T Securities, LLC)
Bipartisan Policy Center
Bloomberg L.P.
Bloomberg News
BMO Financial Group
BNP Paribas
BOX Options
Broadridge Financial Solutions, Inc.
Canadian Investor Protection Fund
Capital Group
Capital One
Cato Institute
Charles Schwab & Co., Inc.
Chicago Clearing Corporation
Citadel Securities LLC
Citi
CME Group
Connor, Clark & Lunn Financial Group
Credit Agricole
Credit Suisse Securities (USA) LLC
Cutter and Company Brokerage, Inc.
D.A. Davidson & Co.
DAC Systems
Davis Polk & Wardwell LLP
Deloitte & Touche LLP
Department of Finance Canada
Digital Assurance Certification, LLC
DTCC
E*TRADE
ED&F Man Capital Markets Inc.
Edward Jones
Ensign Peak Advisors
EQ by Equiniti
Farm Credit System Insurance Corporation (FCSIC)
Federal Farm Credit Banks Funding Corporation
Federal Reserve Bank of Boston
Federal Reserve Bank of New York
Federal Reserve Board
FICO
Fidelity Institutional
Fidelity Investments
Fidelity National Information Services, Inc. (FIS)
Financial Industry Regulatory Authority Inc (FINRA)
FTI Consulting, Inc.
Goldman Sachs Group, Inc.
Guggenheim Partners, LLC
Hearsay Systems
Hefren-Tillotson, Inc.
HSBC
IEX Group, Inc.
IHS Markit
INTL FCStone Inc.
Invesco
J.J.B. Hilliard, W.L. Lyons, LLC
Janney Montgomery Scott LLC
Janus Henderson Investors
JPMorgan Chase & Co.
K&L Gates LLP
Keefe, Bruyette & Woods, Inc.
KeyBanc Capital Markets Inc.
KPMG LLP
Legg Mason Global Asset Management
Lincoln Financial Network
Loop Capital Markets LLC
Lowenstein Sandler LLP
LPL Financial LLC
Manulife
MassMutual
McKinsey PriceMetrix
MetLife
Moors & Cabot, Inc.
Morgan Stanley
Morrison & Foerster LLP
Natixis Investment Managers
Nomura
Northern Trust Corporation
Northwestern Mutual Life Insurance Company
Nuveen
Office of the Comptroller of the Currency (OCC)
Oppenheimer & Co. Inc.
Perkins Coie, LLP
Pershing LLC, a BNY Mellon Company
PNC Capital Markets LLC
PriceMetrix
PricewaterhouseCoopers LLP
Primerica
Protiviti
Prudential Financial, Inc.
PwC
Rabobank Group
Raymond James Financial, Inc.
RBC Capital Markets, LLC
RBC Wealth Management
Refinitiv
Robert W. Baird & Co. Incorporated
Robinhood Financial, LLC
RSM US LLC
Russell Investments
Schroders
Securities Investor Protection Corporation (SIPC)
Simpson Thacher & Bartlett LLP
Smith Moore
Societe Generale
Standard Chartered Bank
State Street Corporation
SunTrust Robinson Humphrey, Inc.
T. Rowe Price Associates, Inc.
TCW
TD Ameritrade, Inc.
TD Asset Management
The Brattle Group
The Institute of International Finance Inc
Third Way
Thomson Reuters
TIAA
TradeStation Securities, Inc.
Tradition Securities and Derivatives Inc.
Two Sigma Securities, LLC
U.S. Commodity Futures Trading Commission (CFTC)
U.S. Department of Health and Human Services
U.S. Department of the Treasury
U.S. Securities and Exchange Commission (SEC)
UBS AG
Vanguard Group, Inc.
Virtu Financial
Voya Investment Management
Wells Fargo
Wells Fargo Advisors
William Blair
WilmerHale
Workiva Inc.
Ready to Join?
Register now to join us this November. Early bird rates end on Friday, October 18.