Canada-US Securities Summit
Registration Rates – Until 5/16/18
Member

Complimentary

Non-Member

Complimentary
Overview
This spring, SIFMA and the Investment Industry Association of Canada (IIAC) come together to host the 6th annual Canada-U.S. Securities Summit in New York City. This half-day event convenes experts from Canada and the United States to discuss key economic, regulatory and political issues in the North American capital markets, including perspectives on the agenda of the new U.S. administration and its potential implications for the long-held ties between the two nations.
The program will cover topics ranging from NAFTA, regulatory reform and cross border issues, tax,  and more.
The Summit will conclude with a networking luncheon.
Pricing
Member

| | |
| --- | --- |
| Registration Rates | Complimentary |
Non-Member

| | |
| --- | --- |
| Registration Rates | Complimentary |
Pricing

| | | |
| --- | --- | --- |
| | Member | Non-Member |
| Registration Rates | Complimentary | Complimentary |
Venue
SIFMA Conference Center
120 Broadway
Floor 2
New York, NY 10271
Located at 120 Broadway, a National Historic Landmark and a New York treasure, the SIFMA Conference Center is situated at the heart of New York's Financial District.
With a rare combination of advanced technologies and sophistication, SIFMA's Conference Center is fully furnished and equipped to offer unique features that stand alone amongst New York's leading conference facilities.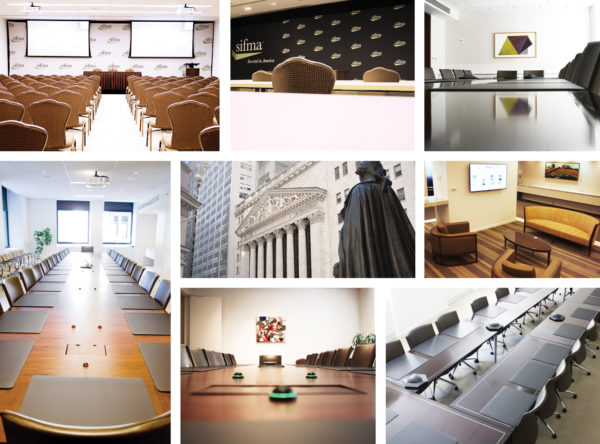 Hotel Accommodations
If you require hotel accommodation, a special SIFMA rate is available at the following:
Double Tree by Hilton Hotel – Financial District
8 Stone Street, New York, NY  10004, Phone# 212-480-9100
DISCOUNT: Corporate ID #0560038852
Club Quarters
52 William Street, New York, NY 10005, Phone# 212-269-6400
DISCOUNT: Password (SIFMA)
Residence Inn New York Downtown Manhattan / World Trade Center
170 Broadway, New York, NY 10007, Phone# 212-600-8900
Media
Media Inquiries
Contact Katrina Cavalli at 212.313.1181.
Media Registration
Contact Emily Reinus at 212.313.1339.
Policy
View SIFMA's official press policy.
Media Partnerships
Custom media partnership opportunities are available for almost every objective and budget, with benefits including complimentary event passes. Contact Monica Ilyevsky at 212.313.1263.
Terms and Conditions
Code of Conduct
SIFMA meetings and events are intended to educate and engage our members and industry participants in thoughtful conversations. Inappropriate behavior will not be tolerated. SIFMA defines inappropriate behavior as any possible illegal conduct, verbal or physical abuse of any type, use of derogatory or discriminatory language, gestures or actions, unwanted invasions of privacy, any form of harassment, racism, sexism, or any other targeted comments which are intended to cause personal offense to another participant either in-person at the event or through social media channels, or the violation of any local, state, or federal laws or regulations.
If you are involved in or witness an incident at a SIFMA meeting or event that violates this Code of Conduct, please use this anonymous incident report form to let SIFMA know immediately. Please provide as much information as possible about the incident so that we can make a proper investigation. Any violations of law should be reported to law enforcement authorities.
SIFMA will investigate any reported incidents swiftly and confidentially if possible. SIFMA, at our discretion, may act on any reports of inappropriate behavior, including but not limited to removing a participant from the meeting or event and/or bar that person from attending future SIFMA meetings or events. SIFMA shall not refund any money paid for such attendee to attend the meeting or event, or for any travel expenses incurred to attend.
Attendee Roster
For your name to be included in the Attendee Roster, your completed registration form and payment must be received no later than two weeks prior to the event. Registrations received after that time will not be included in the Roster.
Substitutions
Conference registration substitutions are welcome. Email [email protected] with the following information and we will confirm the change: original registrant's full name, substitute registrant's full name, mailing address, title, phone and email.
Cancellations
Refunds will be granted for cancellations made three weeks prior to the start of the event. All cancellation requests are subject to a $100 processing fee and must be made in writing.