SIFMA Foundation Tribute Dinner
October 5, 2016
Cipriani New York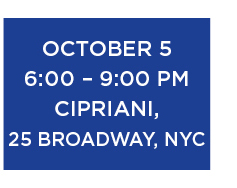 On October 5th, SIFMA and the SIFMA Foundation gathered together industry members and advocates of financial education at the SIFMA Foundation's 2016 Tribute Dinner for a special evening to celebrate champions of youth financial education and raise awareness for this important cause. Helping young people become financially capable will ensure that they are well prepared to make informed financial decisions throughout life and position them to be vital contributors to our future economy.
We encourage you to continue to show your support and stay involved with the SIFMA Foundation. Help transform a student's financial future!

If you'd like to make a contribution, please click here.  

To learn more about how you can volunteer with the SIFMA Foundation, please visit Invest It Forward or contact IIF@sifma.org.

Honorees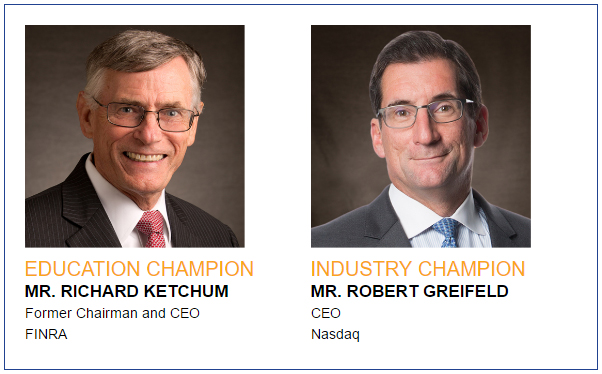 Programs Built for Success
Since 1977, the SIFMA Foundation's financial education programs have enabled 16 million students to better understand the capital markets, improve their saving and investing habits, and raise their standardized test scores in mathematics and economics, preparing them for college and career success. Your  generous contributions continue to help millions of students across the country become more financially capable.
Stock Market Game™

InvestWrite®

Capitol Hill Challenge™

Invest It Forward™

Established: 1977
Most Outstanding Achievement: In 2015, the SMG program reached 600,000 students and 15,000 teachers in all 50 US states, improving students' standardized math, economics, and personal finance test scores. 

Established: 2004
Most Outstanding Achievement: Since InvestWrite began, 170,000 students, 8,200 teachers and 23,000 industry professionals serving as volunteer judges have taken part in this national essay competition.

Established: 2004
Most Outstanding Achievement: In 2016, an astounding 100% of Congress participated in the program and 65 Senators and Representatives literally went "back to school" to meet student teams.

Established: 2014
Most Outstanding Achievement:In its first year, Invest It Forward connected 30,000 volunteers from 353 firms with local schools, teachers and students to contribute more than 250,000 service hours.
For further information, please:
Call us at 212.313.1307
Email us at tributedinner@sifma.org

---
---