SIFMA Tech 2014
June 17-18, 2014
Hilton New York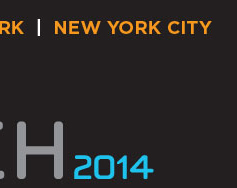 Event Overview
On June 17 and 18, 2014, industry participants, regulators and solution providers gathered in New York to discuss the evolving role of technology in financial services, its impact on the industry, and how to maximize the potential of innovation while managing risk.
Experts and industry leaders shared perspectives on a range of significant technological and operational changes including cybersecurity considerations and measures, CAT, CARDS, and shortening the settlement cycle, among others. The forum highlighted the importance of public and private sector collaboration to ensure that the right policies and technologies are in place to maintain a resilient marketplace.

SIFMA Tech 2014 Photos
Steve Randich, Executive Vice President and Chief Information Officer of FINRA, opens SIFMA Tech 2014 with a discussion on the role of big data and cloud technology in transforming financial services regulation. The enhanced visibility that this technology brings helps the industry regulator become more efficient and streamline data and platforms.
Event Photos
Dr. Kristof Kloeckner, General Manager of Rational Software at IBM, shares how firms can take advantage of shifts in data, cloud, and social and mobile engagement to innovate and unify business and IT initiatives.
Event Photos
Michael Morell, Former Deputy and Acting Director of the CIA, delivers an insightful briefing on the cyber threats to the financial services industry and to the critical infrastructure and integrated services that support it.
Event Photos
Kenneth E. Bentsen, Jr., President and Chief Executive Officer of SIFMA, delivers remarks at Tech 2014. Technology professionals are looked to more and more as solution providers who can help financial institutions accomplish goals and succeed in the new regulatory environment.
Event Photos
Ron Insana, CNBC and MSNBC Contributor, moderates a panel of technology executives on what it means to be a Chief Information Officer and Chief Information Security Officer within financial services today and the technologies that are shaping the industry.
Event Photos
Equity Market panelists, Gregg E. Berman of the SEC, Brian Carr from ConvergEx Execution Solutions, and FINRA's Thomas Gira, discuss the role of technology in the evolution of the equity market.
Event Photos
Randy Snook, Executive Vice President of Business Policies & Practices at SIFMA, opens Day 2 of Tech 2014. It is important to review the key issues facing technology professionals, and how we can balance innovation with risk management requirements.
Event Photos
Stephen C. Daffron, President and Chief Executive Officer of Interactive Data, discusses regulation and resilience. The ability to monitor and detect unintended outcomes, and having the tools to deal with them if they occur, are vital to protect the efficiency and resiliency of the market.
Event Photos
Michele Trogni, Head of Enterprise Services for Markit's Solutions Division, describes Smartsourcing and how centralized services will drive a new wave of differentiation in the financial industry.
Event Photos
Terry Jones, Former CEO of Travelocity.com and Former Chairman of Kayak.com, shares the fundamentals of innovation with real world examples drawn from his own experience. A culture that is open to change is more important than business strategy when seeking to achieve innovation.

Prepared Remarks

News Coverage
Ex-CIA head warns about cyberattacks in financial services
David Bannister, Banking Technology, June 18, 2014

Cost of Finra's CARDS program, other regulatory demands will hit investors
Joyce Hanson, Investment News, June 18, 2014

SIFMA Tech 2014 - CAT to Bring Oversight Benefits, Implementation Questions Loom
Jake Safane, Global Custodian, June 18, 2014


Data Dominates SIFMA Tech Debates
David Bannister, Banking Technology, June 19, 2014


Social Media Smarts: 2 Tips for Success
Maddy Perkins, On Wall Street, June 19, 2014


Personnel Choices
Michael Shashoua, Waters Technology, June 20, 2014


The Financial Services Industry Is (Finally) Embracing Social Media          
Matt Foulger, Business 2 Community, June 21, 2014


Innovate. Secure. Comply. Hootsuite at SIFMA 2014.
Hootsuite via Storify, June 23, 2014

SIFMA on Twitter
CIA's Morell: #cyber threats now as dangerous as physical terrorist attacks; #SIFMA urges public-private partnership to combat #SIFMAtech

— SIFMA (@SIFMA) June 17, 2014
Acting CIA Director Michael Morell: "China has been inside my personal email more times I can count." #SIFMAtech

— Joyce Hanson (@joycehanson) June 17, 2014
Fastest growing threat to our nation cyber espionage, cyber crime, cyber warfare - MIchael Morell former CIA director #sifmatech

— Kathy Troidle (@KathyTroidle) June 17, 2014
Great session @sifma by former deputy of CIA comparing cyber threats to 9/11 terrorist threats. Cyber crime creating same $$ as drug trade.

— Holly (@LittleATXLady) June 17, 2014
.@FINRA_News Randich kicks off #SIFMAtech: #bigdata can make #finreg more focused, informed http://t.co/CrncSinDna

— SIFMA (@SIFMA) June 17, 2014
Automated risk data system CARDS will provide "birds eye view surveillance" complementing boots on the ground, says FINRA CIO #SIFMAtech

— Global Custodian (@globalcustodian) June 17, 2014
Dr. Kristof Kloeckner, gen mgr, #IBM rational software: 3 major disruptors reshape industries: data, cloud, social-mobile. #SIFMATech

— Joyce Hanson (@joycehanson) June 17, 2014
Kristof Kloeckner, general manager of @ibmrational talks about transformations by @fimc @rcbc and @NYSE_Euronext at #sifmatech

— Bruce Baron (@brucedbaron) June 17, 2014
#SIFMA's Bentsen: #finserv firms ensuring policies & technologies in place to encourage culture of compliance http://t.co/mCWZduMQ8n

— SIFMA (@SIFMA) June 17, 2014
.@SIFMA chief says the cost of regulatory data collection will result in higher fees or fewer services http://t.co/AOA92azG7M

— InvestmentNews (@newsfromIN) June 18, 2014
EVP Snook: Sound tech needed for efficient & resilient markets; Must balance innovation w/ risk mgmt #SIFMAtech http://t.co/EGxWgjP5zR

— SIFMA (@SIFMA) June 18, 2014
Jones, fmr CEO @KAYAK @travelocity: Culture more important than business strategy to foster #innovation #SIFMAtech

— SIFMA (@SIFMA) June 18, 2014
Tuesday at #SIFMAtech was a great day. Had fun participating in Ron Insana's panel discussing disruptive technologies in financial markets

— Natalia Kory (@natakory) June 19, 2014
---
---