Event Overview
With the pace and volume of securities issuance at its highest levels since 2007 and new participants entering the space, SIFMA hosted its 2015 annual Insurance and Risk Linked Securities Conference on March 3-4, focused on the future of the ILS market.
Industry CEOs, market experts, thought leaders, sponsors, and institutional investors gathered in New York City to discuss the expanding opportunities of this market, risk management strategies, and how regulatory changes and other related factors are driving the evolution of the industry today and over the next 20 years.
Conference co-chairs, Cory Anger of GC Securities and Sasson Posner of Deutsche Bank Securities, introduce the 2015 IRLS Conference: Looking Ahead – The Future of the ILS Market.
Event Photos
The opening panel, The Next 20 Years in the ILS Market, debate a number of factors impacting the trajectory of the ILS market and what it means for the (Re)insurance sector.
Event Photos
Keynote speaker, Karen Clark, President and CEO of Karen Clark & Company, asserts that complexity in hurricane modeling is not equal to accuracy, and makes the case for ILS to embrace new technology as the industry continues to evolve.
Event Photos
Moderated by Aurora Swithenbank of Goldman, Sachs & Co., the The Next Frontier panel closes the day. Panelist, Michael Millette: One of the key factors in the industry's evolution is investment-oriented reinsurance.

Prepared Remarks
Presentations
News Coverage and Blogs

SIFMA on Twitter
#IRLS2015 Very professionally organised. Great speakers and delegates. The right place to network and do 1:1 meetings.

— Robert Lindblom (@lindblom_robert) March 5, 2015
#IRLS2015 panel kicks off on uninsured risk with @WorldBank and @WhiteHouse and @SwissRe_GP pic.twitter.com/SG1bLPoky5

— Alex Kaplan (@alexskaplan) March 4, 2015
SIFMA EVP Randy Snook: Since 2008 #ILS #Reinsurance market grown at around 20% per year to a record $24.1 Bln outstanding #IRLS2015

— John Walsh (@johncwalsh) March 4, 2015
#IRLS2015 is in full swing! Link to remarks by #SIFMA EVP Randy Snook http://t.co/k1lysGMYqi pic.twitter.com/OXFYcTorVe

— SIFMA (@SIFMA) March 4, 2015
Looking forward to @SIFMA #IRLS2015 Conf in NYC for latest in #ILS and a look to the future. Register at: http://t.co/XxhcxrsNMx

— Trading Risk (@IPTradingRisk) March 3, 2015
We're headed to @SIFMA's #IRLS2015 in #NYC tomorrow -- along with an impressive 62 #Bermuda delegates ! #ILS #catbond @ILSBermuda

— Bermuda BDA (@investBermuda) March 2, 2015
Thank You To Our Sponsors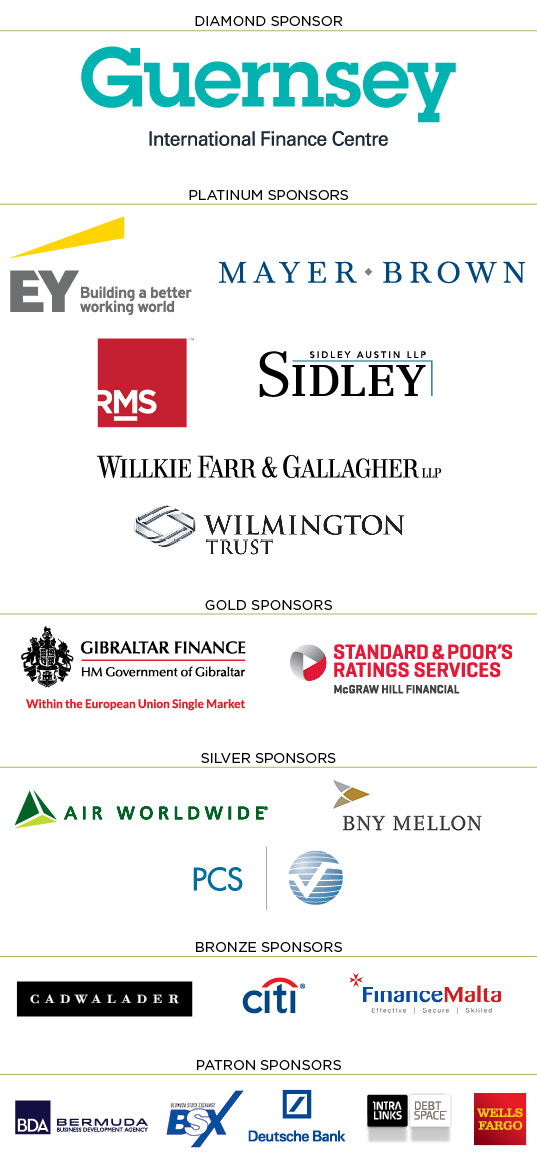 ---
---