Financial Services Technology Expo 2011
June 14-16, 2011
Hilton New York  
Exhibit
  View All 2011 Exhibitors | Search by Exhibitor
View All Exhibitor Categories
Freeman Exhibitor Manual | 2010 Conference Attendees 
2010 Exhibit Hall Attendees 
Exhibitor Log-In 
 
View Floor Plans:
Grand Ballroom - 3rd Floor - Exhibit Level 2 |  Rhinelander Complex - 2nd Floor - Exhibit Level 1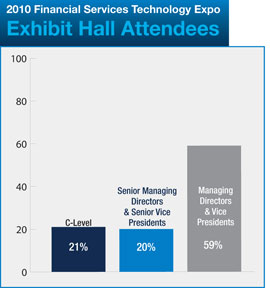 Exhibit Opportunities
SIFMA's 31st Annual Financial Services Technology Expo is the premier event focusing on technology in the financial services market. The Conference & Exhibit is the industry's leading event with over 200 vendors and 8,000 attendees. The conference will address the rapidly-changing world of technology and how the financial industry is using technology to drive productivity, comply with regulatory requirements, and adapt to converging markets, products and investors. This year's program promises to deliver an informative and educational program designed expressly for individuals within securities firms who have management responsibility for technology-based support activities, including: communications, market data, information security, trading room support, web and Internet technology and information systems.
The Targeted Audience
Senior Level Executives from within the securities, banking and financial markets industry responsible for managing communications, data processing, market data, information security, trading room support, web and Internet technology, information systems and other related technology activities. This is an audience of exceptionally high quality. The central and still growing role of technology to the securities business has made this Conference a must for technology management throughout the securities industry. This past June, more than 700 members of this influential group attended the conference, 20% C-Level, 20% Senior Vice President & Senior Managing Directors, 60 % Vice President & Managing Directors.
New for 2011
Titanium, Platinum, Gold & Silver Level Status - Metal Level Status will be based on total overall contractual investment, attributed towards exhibit & sponsorship opportunities, which include investment of a la cart sponsorship opportunities, exhibit space, and advertising opportunities.
Titanium Level Sponsor 
Platinum Level Sponsor  
Gold Level Sponsor 
Silver Level Sponsor 

 

  

 

 

 

 

 

 

 

 
Metal Level Sponsors will be acknowledged throughout the event in multiple fashions that include:
Full color logo placed on entrance unit signage
Full color logo placed on banners displayed in various locations
Acknowledgement as a Metal Level Sponsor on event Website
Acknowledgement as a Metal Level Sponsor in event literature distributed to all conference attendees
Acknowledgement on slide presentations at the start and end of general session presentations
Acknowledgement on plasma screens showcased throughout the sessions and exhibit hall
New for 2011
Exclusive Opportunity available to contracted exhibitors and sponsors only.

VIP Sky Box Suites located in the Grand Ballroom on Exhibit Level 2
This area is great opportunity to host private meet and greet and to invite clients and prospects to a smaller private without leaving the exhibit hall for demonstrations, etc.

VIP Sky Box Suites are limited to Nine (9) private rooms. - 1 Sold!, 8 Available
Investment: $12,500
     Cisco Systems

VIP Sky Box Suites package includes:  
Three (3) days of private conference room
Hard wall construction for privacy with printed graphics/logo's
Graphics included:  
Two (2) single sided one meter graphics panels
One (1) 11"x 17" double sided Sky Suite ID signs
One (1) 4' x 8' Foam core graphic logo sign to be hung over the balcony as fascia
Furniture included:  
One (1) 36" black round SoHo table
Four (4) black diamond side chairs
One (1) black diamond arm chairs
One (1) love seat
One (1) metro slate cocktail table
Sky Box package fee are inclusive of all labor.  
Tuesday, June 14 & Wednesday June 15
Vendor Solution Centers
Due to popular demand from participating member firms – additional solution centers are being added to this year's agenda.

Vendor Solution Centers will run currently, Five (5) during each time period for one hour, and will be offered on a first-come/first –serve basis. Solution centers are subject to SIFMA approval. Written proposals, including subject matter and bios must be submitted for approval. Vendor Solution Centers will be incorporated into the program which allows vendors to meet face to face with new and existing clients. Space is limited - Fifteen (15) Solution Centers.

Vendor Solution Center Schedule:  
                                                                 ** All times are subject to change ** 
 Vendor Solution Center package offers maximum value with:  
A meeting room is provided that holds 75 people maximum
One standard microphone
One LCD/data projector available for PowerPoint Presentation
One screen
Vendors are responsible for any additional audio visual and internet/WiFi fees
Vendor Solution Center Benefits:  
2 Complimentary Conference Registrations
Sixty minutes of program time.
A room will be provided to hold up to 75 people.
Your firm will be highlighted in the program, that's distributed to all registered attendees as well as on this event page here
Vendor Solution Center Investment: $10,000 
Solution Center participant have the opportunity to speak exclusive group of up to 75 people.
Solutions Centers are open to all attendees (Conference & Exhibit Hall).
Conference Dates/Location Tuesday, June 14 - Thursday, June 16, 2011
Hilton New York
1335 Avenue of the Americas
(Cross Streets 53rd and 54th) New York, NY 10019
212.586.7000
Exhibit Fees –8'x10' booth - $5,200 ($65.00 per sq. foot)
SIFMA's Financial Services Technology Expo – Exhibitor Benefits Package offers Maximum Value with: 
Standard booth size - 8'x10' exhibit space – (Larger booths are also available)
Seven complimentary exhibit hall booth registrations per booth rented
Exhibit guide listing, 150 word company profile, product/service description included in the official exhibit guide, which is distributed to all conference attendees.
Recognition on SIFMA's website indicating your participation, 150 Word company profile product/service description listed on event page that includes exhibiting firms linked URL – that has the potential of being viewed by up to an average of 400,000 users monthly.
Preliminary list of conference registrants, in electronic format four weeks prior to the event
Complete list of conference registrations, four weeks post event. This list is in electronic format, and includes name, title, firm and mailing address
Exposure to the ultimate decision makers
Unsurpassed networking opportunities with senior executives
The ability to develop new contacts and leads
Booth Space Assignment - Exhibit space must be reserved by contacting Diana Serri (212.313.1258) or Brian Wilson (212.313.1250). After you reserve your booth location by phone, an application and invoice will be sent to you. Payment in full must be received within ten business days, or your space will be automatically canceled.
Exhibit Hall Hours - Although subject to modification, the Exhibit Hall will be open as follows and all events listed will take place in the Exhibit Hall:
Tuesday, June 14
9:00 a.m. – 6:00 p.m.

Wednesday, June 15
9:00 a.m. – 6:00 p.m.

Thursday, June 16
9:00 a.m. – 12 Noon 
 Top Reasons to Take Advantage of this Once-a-Year Opportunity  
Get in front of key business decision makers. Increase your exposure while maintaining your presence in the financial markets industry at the industry's premier event of the year.
Create new leads. Network with more than 8,000 industry professionals. Exhibit with us, and we'll brand your company, product or service with description and contact info on our website at www.sifma.org, as well as in our printed exhibit guide, which is distributed to all conference track and exhibit hall registrants at the event.
Gain momentum by showcasing your products and services and enhance your brand's presence. Be sure your potential clients see you at the exhibit. Create a tailored environment within your own exhibit space. It's your opportunity to effectively display your products, demonstrate your brand and interact with the financial markets industry.
Maintain client relations — optimize your marketing business development. Invite clients and prospects to register for the exhibit hall free. You can arrange for private meetings for customers during exhibit hours. Contracted sponsors and exhibitors have the option of renting private meeting rooms at the Hilton New York during the event.
Don't miss this once a year opportunity to join innovators and experts in exploring the critical technology issues facing the securities and financial markets industry today.  
For additional information, please contact:
Diana Serri
Vice President, Exhibit & Sponsorship Sales
212.313.1258
---
Other SIFMA Opportunities                                           


 
 

Introducing the New SIFMA Legal Elite Partnership Program 

Many SIFMA members have asked us for a more comprehensive way to leverage their participation at SIFMA events and conferences. We have developed this unique marketing strategy to benefit those companies who want to reach the highest level SIFMA members and delegates year round as well as be recognized at our events.

The Legal Elite Partnership Program is a year long marketing concept that let's you pick four strategic conferences you want to be a part of and be recognized as a leader in these specific areas. There are many additional SIFMA programs your company will be part of including promotion on the SIFMA website, opportunity to host a workshop, complimentary ads in SIFMA publications and many more valuable resources that will connect you to the most highly qualified industry leaders in legal and financial markets. 
Contact: 
Diana Serri
Vice President, Exhibit & Sponsorship Sales
SIFMA
Securities Industry and Financial Markets Association
212.313.1258
dserri@sifma.org 

SIFMA's Strategic Partner Program 
SIFMA serves as the single powerful voice for strengthening markets and supporting investors. Partnering with SIFMA offers your firm continuous visibility within our membership, comprised of more than 600 securities firms, banks and asset management firms, in the U.S. and around the world.
The Strategic Partnership Program delivers exceptional brand exposure and provides unique opportunities to network and communicate directly with this highly targeted audience of industry professionals. This cost-efficient program will help partners meet their annual marketing and advertising goals through a variety of benefits which include complimentary sponsorship and exhibition opportunities, presence at all SIFMA events, and ability to connect to our members through direct mailings, targeted contact lists and our website.
Contact: 
Diana Serri
Vice President
Exhibit and Sponsorship Sales
SIFMA
212.313.1258
dserri@sifma.org
http://www.sifma.org/services/spp.html 
For additional information or to reserve your sponsorship, contact: 
Diana Serri
Vice President, Exhibit & Sponsorship Sales
SIFMA
212.313.1258dserri@sifma.org 
or 
Brian Wilson
SIFMA
212.313.1250  
bwilson@sifma.org 




SIFMA's Strategic Partners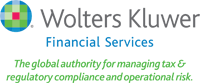 . 
---
---