Compliance and Legal Society Annual Seminar 2014
March 30 - April 2, 2014
Grande Lakes Orlando, FL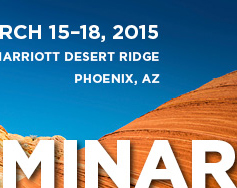 Event Overview
SIFMA held its 47th annual Compliance & Legal Society Annual Seminar on March 15-18 in Phoenix Arizona. This premier event for financial services compliance and legal professionals features more than 65 informative panels where attendees have the opportunity to opportunity to engage with leading experts to discuss the latest regulatory developments and industry trends.
Join Us in Florida in 2016
March 13-16, 2016 
Hilton & Waldorf Astoria Bonnet Creek, Orlando, FL 
Register Today > 
Scott Bieler, President, SIFMA Compliance & Legal Society
Event Photos
Elaine Mandelbaum, Chairperson, SIFMA C&L Annual Seminar Planning Committee
Event Photos
Preet Bharara, United States Attorney, Southern District of New York
Event Photos
Richard Ketchum (Chairman & Chief Executive Officer, FINRA) in conversation with Ira Hammerman (Executive Vice President & General Counsel, SIFMA)
Event Photos
Chair Mary Jo White (U.S. Securities & Exchange Commission) in conversation with Kenneth E. Bentsen, Jr. (President & CEO, SIFMA)
Event Photos
Presentation of the Alfred J. Rauschman Memorial Award to Joseph Polizzotto by Bari Jane Wolfe
Event Photos
Current Enforcement Panel
Event Photos
Current Enforcement Panel
Event Photos
Regulatory Examinations, Inspections and Reviews Panel
Event Photos
William Beatty, President, North American Securities Administrators Association

Prepared Remarks

Presentations
Visit the 2015 C&L Annual app to download seminar presentations.  Please note that presentations are locked for conference attendees only.

News Coverage

SIFMA on Twitter
#Regulators & #finserv industry aren't so different – both for fair, efficient, transparent capital markets says Beatty @NASAA_News #SIFMACL

— SIFMA (@SIFMA) March 18, 2015
Looking forward to hearing my partner Mike Lee speak on recruiting litigation at SIFMA Compliance & Legal conference tomorrow #SIFMACL

— James Komie (@jameskomie) March 18, 2015
Bentsen: #Finserv industry must not only respond to regulations, but also continue to act as leaders #SIFMACL pic.twitter.com/A7i5fJ4F7R

— SIFMA (@SIFMA) March 17, 2015
Improving #culture not just a CCO challenge. Senior management need to take the agenda seriously #SIFMACL

— Ben Shorten (@ShortenBen) March 17, 2015
White: @SEC_News will look to the #finserv industry for input & data when it comes time to implement uniform #fiduciary standard #SIFMACL

— SIFMA (@SIFMA) March 17, 2015
BN: SEC'S WHITE SAYS SHE SUPPORTS FIDUCIARY DUTY FOR BROKERS #SIFMACL

— Dave Michaels (@davidamichaels) March 17, 2015
SEC Chair MJW personal view: @SEC_News shld act to create uniform #fiduciary standard under 913. "It's the right thing to do." #SIFMACL

— Carol (@caroldanko) March 17, 2015
FINRA's new broker bonus rule is coming "very soon"; CARDS plan will be changed, Ketchum says: http://t.co/0fioSO2rzj #SIFMACL

— ThinkAdvisor (@ThinkAdvisor) March 17, 2015
#DTCC's Bari Wolfe is moderating a panel at the @SIFMA C&L Society Annual Seminar in #Phoenix (17 Mar). http://t.co/XlFWzTKD0i #SIFMACL

— DTCC (@The_DTCC) March 17, 2015
Theodore V. Wells Jr. of @PaulWeissLLP at this morning's #diversity breakfast #SIFMACL pic.twitter.com/aenUZepL77

— CT (@CTCorporation) March 17, 2015
Ketchum says @FINRA_News focuses on supervisory responsibility when it comes to #compliance liability. #SIFMACL pic.twitter.com/yvYW33vRBP

— SIFMA (@SIFMA) March 16, 2015
C&L professionals are the guardians and watch dogs of the #finserv industry - Preet Bharara @SDNYnews #SIFMACL pic.twitter.com/cdEnKwQFsc

— SIFMA (@SIFMA) March 16, 2015
#PreetBharara strikes a different note @ #SIFMACL compliance & legal pros not valued enough by mgmt, reward & heed your best line of defense

— Amy J. Greer (@amyjgreer) March 16, 2015
---
---