Highlights from the Financial Industry's Premier Gathering
SIFMA's 2014 Annual Meeting, "Invested in America", convened financial services industry leaders with prominent policymakers, thought leaders and financial media.

Join Us in Washington, DC in 2015
November 10, 2015 
The Ritz-Carlton, Washington DC 
Register Today >

Videos
Photos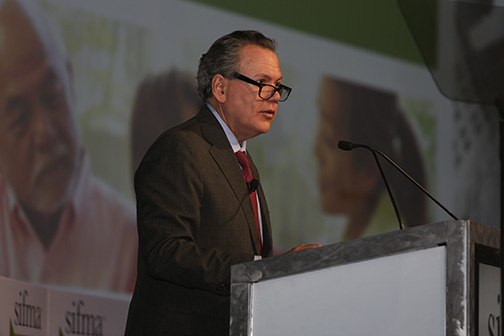 SIFMA CEO Ken Bentsen opens the 2014 Annual Meeting, "885,000 people in the US Securities Industry play a critical role in capital formation, fueling growth and job creation." He also announced the 2015 SIFMA Board.
SIFMA Annual Meeting 2014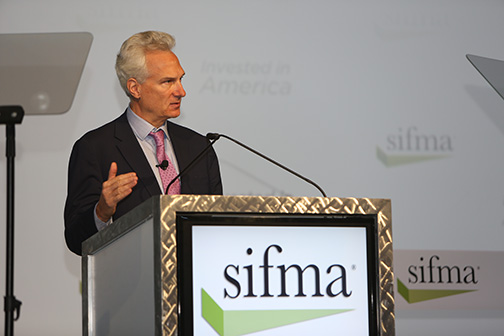 Jim Rosenthal, Morgan Stanley COO, gives the opening remarks at the SIFMA Annual Meeting. "It is Main Street America through broad ownership of mutual funds, public pension funds, private pension funds and life insurance who are the major beneficiaries of the wealth created by growth [of bond markets]."
SIFMA Annual Meeting 2014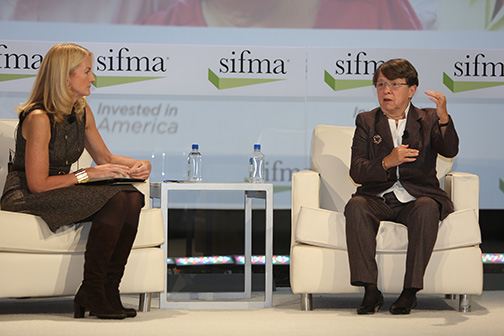 Mary Jo White, SEC Chair, and CNBC's Mary Thompson meet to discuss the state of regulation in finance. "The Commissions 2015 priorities include, completion of Dodd- Frank and JOBS Act Rules, a comprehensive review of equity market structure and enhanced disclosure effectiveness."
SIFMA Annual Meeting 2014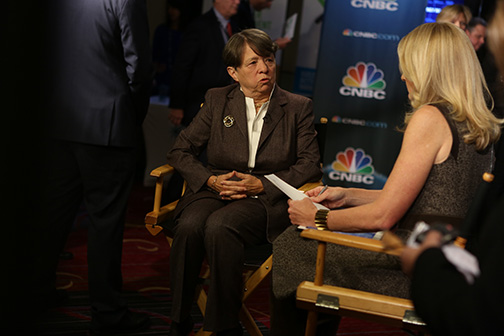 Mary Thompson interviews Mary Jo White, SEC Chair, for CNBC following their question and answer session at the 2014 SIFMA Annual Meeting.
SIFMA Annual Meeting 2014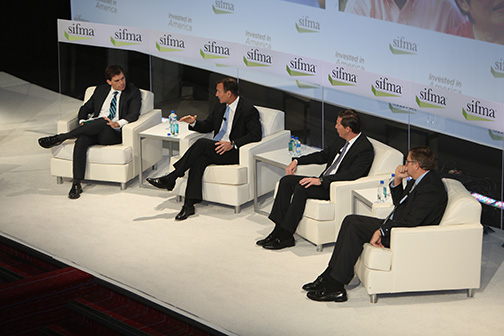 Michael Santoli of Yahoo Finance speaks with executives from Neuberger Berman, TIAA-CREF, and PIMCO providing the audience a view from the Buy-Side. "We make an implicit promise to clients that we will protect and enhance their wealth, if we do not do that, then we have failed." – Doug Hodge, PIMCO
SIFMA Annual Meeting 2014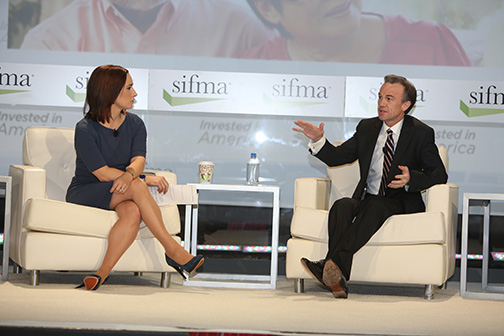 Kate Kelly from CNBC has a one-on-one with Gregory Fleming, President, Morgan Stanley Wealth Management and Morgan Stanley Investment Management. "The Millennial generation is different than any other generation… Advice needs to be accompanied by a world-class digital experience."
SIFMA Annual Meeting 2014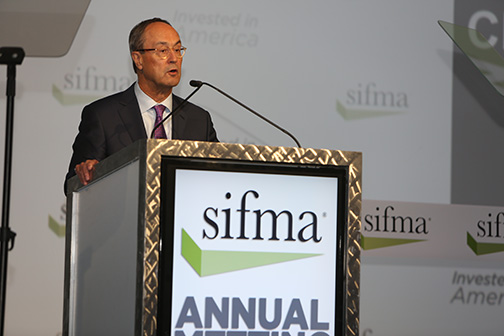 "We are more than just Wall Street," says Bill Johnstone, Chairman and Chief Executive Officer at D.A. Davidson Companies, and SIFMA Chair. Mr. Johnstone spoke about the variety of small and regional firms that make up the financial industry.
SIFMA Annual Meeting 2014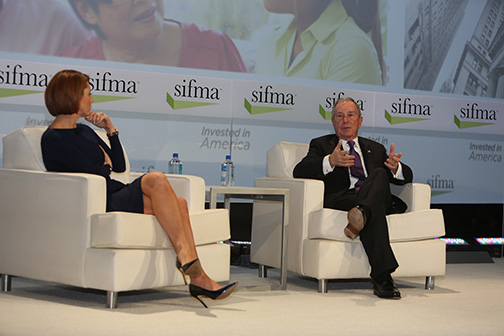 Former Mayor Michael Bloomberg has a candid chat with Stephanie Ruhle of Bloomberg Media during luncheon.
SIFMA Annual Meeting 2014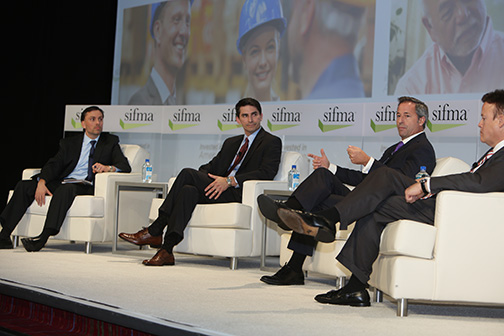 A panel of commercial company executives gather to discuss their take on capital markets. "Sustainability is important for capital markets to be able to fulfill their function. The volatility we saw in October means you will pull your S-1's and postpone your road shows… that's not good for anybody." – Laurence Tosi, Chief Financial Officer, Blackstone.
SIFMA Annual Meeting 2014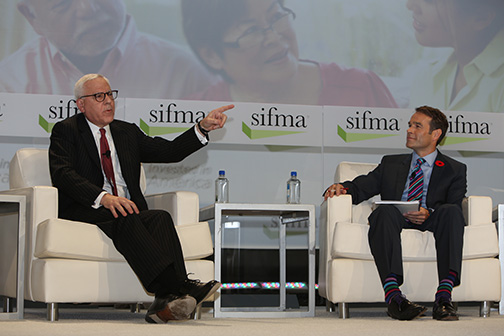 David Rubenstein of the Carlyle Group has a vibrant talk with Erik Schatzker, Editor-at-Large for Bloomberg Television. "Signals show economy is in good shape."
Featured Posts: SIFMA Pennsylvania + Wall
Pennsylvania + Wall provides commentary on a broad range of current financial, economic and regulatory reform topics.
Featured News
| | |
| --- | --- |
| | |
| | |
| | Video: SEC's White: High Frequency Trading May Need New Rules |
| | |
| | |
| | |
|   | Q&A: Mike Bloomberg on Wall Street, Regulation and Running for President |
|   | |
|   | |
|   | |
|   | |
|   | |
|   | |
|   | |
|   | SmartBlog on Finance: Analysts Forecast More Change for Financial Industry |
|   | Michael Santoli's Tumblr: Bonds, bonds everywhere – but not enough liquidity |
Presentations and Publications
Resources
 Project Invested:

This new resource, unveiled at the SIFMA Annual Meeting, focuses on local stories, and provides a forum to explore and discuss key concepts that underlie the market economy. By doing so, our hope is that this project will spark a conversation about the importance of capital markets in both private and public enterprises. We believe that's a story worth telling.

SIFMA Online Resource Centers: Comprehensive summaries of critical business, legislative and regulatory issues that affect the financial services industry:
Twitter Buzz
.@MikeBloomberg's thoughts on the retail investor at #SIFMA pic.twitter.com/pfioQLHBa4

— Bloomberg LP (@Bloomberg) November 10, 2014
.@MikeBloomberg on consumer choice at #SIFMA pic.twitter.com/Pubicxj8Uu

— Bloomberg LP (@Bloomberg) November 10, 2014
Greg Fleming discusses future of wealth management w/ @SquawkCNBC's @davidfaber at #SIFMA Annual Meeting Mon, Nov. 10 @MorganStanley

— Andrew Welsch @AndrewWelsch November 10, 2014
@SEC_News Chair White appears on tv following session at #SIFMA Annual Meeting; check out @BloombergTV & @CNBC pic.twitter.com/ut99rIRDhA

— MorganStanley @MorganStanley November 10, 2014
Excited to announce @SIFMA's #ProjectInvested at #sifma #annualmeeting pic.twitter.com/HJfqer7MHl

— Gary Liu @garycliu November 10, 2014
SEC Chair, Mary Jo White:criticism goes with the territory; founded or unfounded. You can't lead in response to criticism #Regulation #SIFMA

— Maysoon Kaibni @maysoonkaibni November 10, 2014
Chair White: Cooperation amongst regulators good but coordination challenges remain; consolidated regs not expected immediately #SIFMA

— SIFMA (@SIFMA) November 10, 2014
Mary Jo White - SEC to proceed soon on REG SCI ... "you never get to a point where you declare mission accomplished … it is a process #SIFMA

— project invested @projectinvested November 10, 2014
Ken Bentsen opens #SIFMA annual meeting to a packed ballroom pic.twitter.com/eUkhhjemyT

— Megan Leonhardt @Megan_Leonhardt November 10, 2014
#SIFMA CEO: 850k ppl in US Securities industry play critical role in capital formation fueling growth & job creation bit.ly/1ATadTL

— SIFMA (@SIFMA) November 10, 2014
Good morning from SIFMA conference! Heavy hitters today include Mayor Bloomberg, Mary Jo White, and David Rubenstein pic.twitter.com/f6WncQt67S

— Jesse Solomon @JesseSolomonCNN November 10, 2014
"Exponential increase in productivity & wealth driven by technology" Jim Rosenthal, COO @MorganStanley #SIFMA Annual pic.twitter.com/IS91DeoQxC

— John McCrank @jmccrank November 10, 2014
SEC's White says fiduciary rule is "enormously important to do but the Commission has not made a decision." #SIFMA

—SIFMA @SIFMA November 10, 2014
George Walker, Neuberger Berman CEO: Bond market liquidity now a board-level discussion. #SIFMA

— Antony Currie @AntonyMCurrie November 10, 2014
The one and only Mary-Jo White dominating @SIFMA summit @SEC_News pic.twitter.com/wj0Dq1BEVa

— Stephanie Ruhle @SRuhle November 10, 2014
..."@PIMCO theme is that of constructive paranoia" says Doug hodge answering questions on affect of Gross departure #sifma

— Mike Kentz @MikeKentz1 November 10, 2014
#Finra Ketchum offers olive branch to #CARDS critics, stressing investor protection. "Let's think together on how best to do that." #SIFMA

— Mark Schoeff Jr. @MarkSchoeff November 10, 2014
MS's Fleming tells @KateKellyCNBC Morgan Stanley's FAs are cautious about emerging markets. Sees commodities pressured for some time @SIFMA

— Mary Thompson @MThompsonCNBC November 10, 2014
"We are more than Wall Street"#SIFMA Chair-Elect Johnstone @DADavidsonCo representing small and regional firms across the country

— SIFMA (@SIFMA) November 10, 2014
At #SIFMA's Annual Meeting, David Rubenstein says that @OneCarlyle's signals show that the #economy is in good shape

— SIFMA (@SIFMA) November 10, 2014
Greg Fleming @MorganStanley on #millennials: The #environment is big factor when they invest that won't change as they age #SIFMA @SBFinance

— Joyce Sullivan (@JoyceMSullivan) November 10, 2014
---
---